Special position of the windscreen wipers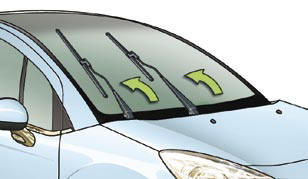 In the minute following switching off of the ignition, any action on the stalk positions the wipers vertically.
This action enables you to position the wiper blades for winter parking, cleaning or replacement without damaging the bonnet.
To park the wipers after this has been done, switch on the ignition and operate the stalk.
For optimum and lasting wiping of the "fl at-blade" wiper blades, it is advisable to:
- handle them with care,
- clean them regularly using soapy water,
- change them approximately every 6 months,
- avoid using them to retain cardboard on the windscreen.
See also:
Tyre pressure sensors
This function alerts you in the event of a tyre being deflated or punctured. For this purpose, sensors continuously monitor the condition of the vehicle's wheels. This system does not absolve the ...
Diesel injection equipment
Bleeding of water from the diesel fuel filter To be bled on a regular basis (at every oil change). To evacuate the water, slacken the bleed screw or the water in diesel fuel sensor, which is loca ...
Charging the battery using a battery charger
Disconnect the battery from the vehicle. Follow the instructions for use provided by the manufacturer of the charger. Reconnect starting with the negative terminal (-). Check that the t ...