Navidrive display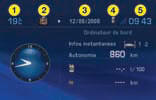 Presentation:
1 - A mbient temperature
2 - Directory
3 - Date
4 - Telephone
5 - Time
If the outside temperature is between +3 °C and -3 °C, the temperature display flashes (risk of ice).
Note: The outside temperature displayed may be higher than the actual temperature if the vehicle is standing in bright sunshine.
The driver is advised not to operate the controls when driving.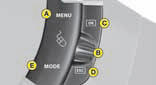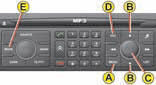 Controls
A - A ccess to the "Main menu".
B - S crolling in the display menus.
C - Validation and Selection in the menus, of the function chosen or value modified.
D - C ancellation of the operation or return to the previous display.
E - S election of the type of information you wish to see permanently displayed (date, radio-CD, trip computer) on the right of the screen.
Main menu
Press control A to display the "Main menu" for the multifunction screen.
This menu gives access to the following functions (See "Navidrive" instructions):

Navigation/guidance

Map

Traffic information

Audio

Audio

Configuration, for adjusting various parameters (date, time, units)

Video

Vehicle diagnosis
See also:
Installing child seats attached using the seat belt
In accordance with European regulations, this table indicates the options for installing child seats secured using a seat belt and universally approved (a) in accordance with the weight of the child ...
Automatic air conditioning
The air conditioning can only operate when the engine is running. ...
Hands-free telephone
Your audio system may be Bluetooth® compatible. It allows you to connect a mobile telephone for "hands free" use and even to use its directory. It permits you to twin up to four telephon ...