Rear seats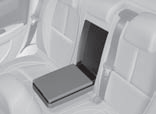 Rear armrest
- Lower the rear armrest to improve your comfort.
- Lift the cover for access to its storage box.
This can contain a storage box, two cup holders and two pen holders.


Rear head restraints
The rear head restraints have two positions:
- A low stowed position when the seat is not occupied.
- A raised position to optimise the safety of the passenger, by raising it to its stop, including when used with a forward facing child seat.
To lower the head restraints, press on the unlocking controls.
To remove them, pull upwards as far as permitted, then press on the unlocking controls.
Note: Never drive the vehicle without the head restraints fitted.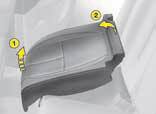 Folding the seat cushion
- raise the front of the seat cushion, - tilt it towards the front seats.
When repositioning the seat base, make sure that the seat belt buckles are back in place.
Note: When you fold a rear seat cushion, you should also fold the corresponding backrest.
Before folding the seat
Before tipping the rear seat, make sure that the seat belts will not be snagged or trapped by the seat and its catches.
Position them carefully to the sides of the backrests.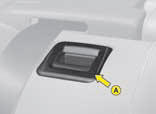 Folding the backrest
Stow the head restraints.
Press on control A located on the extremity of the backrest and tilt fully forwards.
When returning the seat backrest to the normal position, ensure that it locks into place: the red warning indicator, located on the control, must not be visible.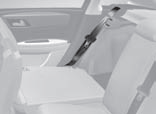 When you are handling the rear seats, avoid trapping the seat belts and make sure that the belt buckles are positioned correctly.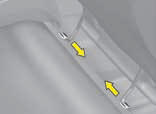 Removing the seat base
To improve seating versatility, the rear seats are removable.
Detach one of the linkages from its securing point, then disengage the other linkage to remove the seat assembly.
See also:
Front seats
Seat consisting of a seat cushion, a seat back and a head restraint which can all be adjusted to adapt your position for ease of driving and comfort. ...
Towing
Towing (boat, caravan, etc.) Before departure: Check the tyre pressures of both car and trailer. Check all the exterior and signalling lamps of the car and trailer. Practice manoeuvring, especiall ...
Exterior mirrors
Each fi tted with an adjustable mirror glass permitting the lateral rearward vision necessary for overtaking or parking. They can also be folded for parking in confi ned spaces. Demisting - defro ...