Interior rear view mirror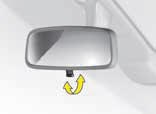 Manual interior mirror
The lever on the lower edge enables you to place the rear view mirror in either of two positions:
Day position: the lever is not visible.
Night position (antidazzle): the lever is visible.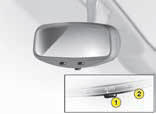 Automatic photochromic interior rear view mirror
This provides an automatic and progressive changing between day use and night use.
To avoid causing dazzle, the mirror automatically becomes darker depending on the intensity of light coming from the rear. It becomes lighter as soon as brightness diminishes, thus ensuring optimal vision.
To operate
Switch on the ignition and press control 1.
- Warning lamp 2 on: automatic mode.
- Warning lamp 2 off: automatic mode stopped. The mirror remains in its lightest definition.
Note: for optimal vision, the mirror lightens automatically when reverse gear is engaged.
See also:
Good ventilation
To obtain the best from the system, we advise: ...
Remote control problem
Following disconnection of the vehicle battery, replacement of the remote control battery or in the event of a remote control malfunction, you can no longer unlock, lock or locate your vehicle. F ...
Installing a child seat using a three point seat belt
"Rearwards-facing" When a "rearwards-facing" child seat is installed on the front passenger seat , it is essential that the passenger airbag is deactivated. Otherwise, the chil ...