Tailgate
Opening from the outside
Press upwards on lever 1 which is located between the number plate lamps.
Anti-theft security
In all cases, as soon as the vehicle is moving (at above approx. 10 km/h or 6 mph) the tailgate locks automatically. The tailgate unlocks when a door is opened or if the interior locking/unlocking button is pressed.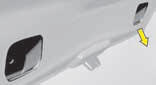 Closing the tailgate
Lower the tailgate, using the 2 handhold zones located on the tailgate interior trim.
Removing your fingers, press down to close.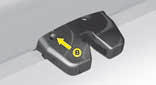 Emergency unlocking
If there is a problem with unlocking the tailgate, it can be unlocked from inside the boot:
- insert a screwdriver or similar tool into hole 2 of the lock,
- turn it in order to unlock the tailgate.
See also:
Trip computer
To obtain display and selection of the different types of information, give short presses on the end of the windscreen wiper stalk. To reset trip computer information to zero, press continuously ...
Radio source
Notes on radio reception Your radio will be subject to certain phenomena that are not encountered by domestic systems. The reception of AM and FM signals may suffer from interference, which is cau ...
Display configuration
Once this menu has been selected, you can gain access to the following settings: - brightness-video setting, - date and time setting, - selection of units. Once the fuel consumption units have b ...