Tailgate
Opening from the outside
Press upwards on lever 1 which is located between the number plate lamps.
Anti-theft security
In all cases, as soon as the vehicle is moving (at above approx. 10 km/h or 6 mph) the tailgate locks automatically. The tailgate unlocks when a door is opened or if the interior locking/unlocking button is pressed.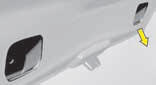 Closing the tailgate
Lower the tailgate, using the 2 handhold zones located on the tailgate interior trim.
Removing your fingers, press down to close.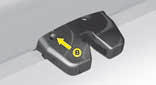 Emergency unlocking
If there is a problem with unlocking the tailgate, it can be unlocked from inside the boot:
- insert a screwdriver or similar tool into hole 2 of the lock,
- turn it in order to unlock the tailgate.
See also:
Exceeding the programmed speed
Pressing the accelerator pedal to exceed the programmed speed will not have any effect unless you press the pedal fi rmly past the point of resistance . The speed limiter is deactivated temporarily ...
Manual controls
The wiper commands are issued directly by the driver by means of the stalk A and the ring B . Windscreen wipers A. wiping speed selection stalk: fast (heavy rain), normal (moderate rain), in ...
Deactivation
Only the passenger's front airbag can be deactivated: with the ignition off , insert the key in the passenger airbag deactivation switch 1 , turn it to the "OFF" position, then, ...