Automatic gearbox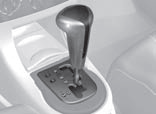 The automatic gearbox offers:
D: operation in auto-active automatic mode, adapting automatically to your style of driving.
M: operation in sequential mode, with manual gear changing.
D and a press on button S or T: operation in automatic Sport or Snow mode.
P: Park
R: Reverse
N: Neutral

Gear lever position
The position of the gear selector is displayed in the instrument panel.
For safety:
Х The gear lever can only be disengaged from position P if you are pressing the brake pedal.
Х When a door is opened, an audible signal sounds if the lever is not in position P.
Х Before leaving the vehicle, make absolutely certain that the PARK or P position is selected.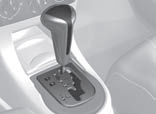 Starting the engine
The engine can be started only in position P or N.
A safety device ensures that starting is impossible in the other positions. After starting the engine, with selector on P, depress the brake pedal then shift the selector to D, R or M,
- D for automatic,
- R for reverse,
- M for manual operation.
A shift from D (automatic) to M (manual) is possible at any time.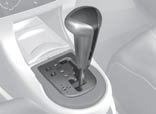 Drive

The gearbox always selects the gear best adapted to the following parameters:
- style of driving,
- route profile,
- vehicle load. In this way the gearbox operates in autoadaptive mode, without the need for your intervention. For certain manoeuvres (for example overtaking), it is possible to obtain maximum acceleration by pressing hard down on the accelerator pedal, which may trigger automatic changedown to a lower gear.
Note During braking, the gearbox may kick down automatically in order to offer an effective engine brake. If you rapidly lift your foot off the accelerator, the gearbox will guard your safety by not changing up again.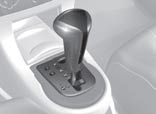 Sequential forward drive

Selector position for manual gear changing. - Selector at M. - Push the selector towards the sign "+" to change up a gear. - Pull the selector towards the sign "-" to change down a gear.
Note: Passage from one gear to another is only possible when vehicle speed and engine speed permit. The Sport and Snow programmes are not operative in sequential mode. The change from position D (drive in automatic mode) to position M (drive in sequential mode) or vice versa may be effected at any time.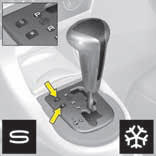 Operation in Sport or Snow automatic mode
Select the driving mode:
- Normal, for regular use, the warning lamps S and T are not illuminated.
- Sport, for more responsive driving, to provide maximum performance and acceleration.
- Snow, for smooth driving in wintry conditions.
Х With selector on D, press button S the warning lamp S in the rev counter will light up, you are in "SPORT" mode.
Х With selector on D, press button : T the warning lamp T in the rev counter will light up, you are in "SNOW" mode.
Х Press button again, warning lamps S and T go out, the "NORMAL" mode is active.
- Flashing of the warning lamp for the position requested signals that this position has not yet been permitted.
- When the warning lamp is fixed, the position is confirmed.
- The display of a dash in the rev counter indicates a fault.
Urgently consult a CITROËN Dealer If there is a fault:
- A sharp hesitation may be felt when you select R for reverse gear.
- The gearbox is stuck in a gear.
- Do not exceed 100 km/h (approx. 60 mph).
Urgently consult a CITROËN Dealer
Park

Do not engage until the vehicle is completely stationary. To avoid any movement of the vehicle when parked, select position P and apply the handbrake firmly. Check that the selector is in the P position to ensure that the driving wheels are locked.
Reverse gear

Do not engage until the vehicle is stationary, foot on brake. To avoid engine hesitation, do not accelerate immediately after the selection.
Neutral

Do not select this position, even momentarily, when the vehicle is in motion.
- Never select position N if the vehicle is moving.
- Never select positions P or R if the vehicle is not completely stationary.
If, while the vehicle is moving, position N is engaged inadvertently, let the engine idle before engaging position D or M.
See also:
Dashboard
1. Bonnet release. 2. Fusebox cover. 3. Storage drawer (left and right). 4. Lateral air vent (left and right). 5. Side window demister vent (left and right). 6. Loudspeaker (Tweeter) (left and ...
Boot (Tourer)
1 Hook Allows you to hook shopping bags. 2 Torch To recharge, return it to its storage position. 3 Storage net or Battery compartment (for vehicles with V6 2.7 HDi engine). 1 Luggage-cover ...
Engine oil level indicator
When the ignition is switched on, the oil level indicator is displayed for several seconds. This display indicates normal operating. A flashing of "OIL" indicates an oil level that i ...