Replacing a fuse
Fuse box
There are two fuse boxes, one below the dashboard and one under the bonnet.
Fuses under the dashboard
To access the fuses below the dashboard, pull back the access cover, undo the screws a quarter turn and tilt the whole unit.
Replacing a fuse
Before replacing a fuse, it is essential to find the cause of the incident and to rectify it. The fuse identification numbers are indicated inside the fuse box.
Replace a blown fuse with one of the same rating (the same colour)
Use the special pliers A stowed on the cover close to the fuseboxes, this includes a compartment for replacement fuses.
Good

Faulty

Tool A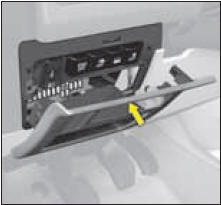 Access to the first fusebox under the dashboard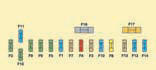 Fuses under the dashboard
Your vehicle's electrical system is designed to operate with standard or optional equipment. Before installing other electrical equipment or accessories in your vehicle, contact a CITROËN dealer. CITROËN will not accept responsability for the cost incurred in repairing your vehicle or for rectifying the malfunctions resulting from the installation of accessories not supplied and not recommended by CITROËN and not installed in accordance with its instructions, in particular when the consumption of all of the additional equipment connected exceeds 10 milliamperes.
See also:
Unique personality with new body styling
The exterior styling of the new Citroen C3 denotes creativity at the service of well-being. The new model is soft by its curves and dynamic by its flowing, taut lines. The front end gets a new &qu ...
Jack socket
This connection box, consisting of a JACK socket is located on the centre console. It permits the connection of portable equipment, such as a digital audio player of the iPod ® type. It reads ...
Overview
With attractive, sculpted lines; impressive build quality; and an array of original upmarket features and functions, the new Citroën C4 is a perfect balance of confidence-inspiring styling an ...