Memorisation of driver's adjustments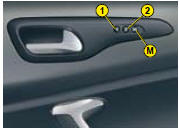 The memorisation function allows you to make the following dashboard adjustments:
Driver's seat.
Exterior rear view mirrors.
Air conditioning (temperature and air flow).
You have the possibility to memorise two driving positions using buttons 1 and 2.
Memorisation of driving positions
a. Place the igntion key in "Drive" position (second position).
b Adjust your seat, the exterior rear view mirrors and the air conditioning.
c Press successively on button M then on button 1 (first driving position) or 2 (second driving position).
The memorisation is confirmed by a sound signal.
Note: The memorisation of a new driving position cancels and replaces the previous one.
Recall of a memorised driving position
Vehicle stationary (ignition on or engine runnin
Press briefly on button 1 or 2 to recall the corresponding memorised position.
The completion of the adjustments is confirmed by a sound signal.
Vehicle in motion
Keep button 1 or 2 pressed down to recall the corresponding memorised position.
See also:
Trip distance recorder
System which measures a distance travelled during a day or other period since it was reset to zero by the driver. With the ignition on, press the button until zeros appear. ...
Citroen C5 HDi 200 dpfs, a blend of power and economy
A new engine is making its appearance in the Citroen C5 range, a new-generation 2.2 litre powerplant bringing across-the-board progress on power, torque, silence, fuel consumption and CO2 emission ...
Steering column adjustment
Both the height and reach of the steering wheel can be adjusted. With the vehicle at rest, first adjust the seat to the most suitable position, then adjust the position of the steering wheel. Ad ...