Memorisation of driver's adjustments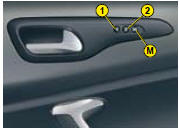 The memorisation function allows you to make the following dashboard adjustments:
Driver's seat.
Exterior rear view mirrors.
Air conditioning (temperature and air flow).
You have the possibility to memorise two driving positions using buttons 1 and 2.
Memorisation of driving positions
a. Place the igntion key in "Drive" position (second position).
b Adjust your seat, the exterior rear view mirrors and the air conditioning.
c Press successively on button M then on button 1 (first driving position) or 2 (second driving position).
The memorisation is confirmed by a sound signal.
Note: The memorisation of a new driving position cancels and replaces the previous one.
Recall of a memorised driving position
Vehicle stationary (ignition on or engine runnin
Press briefly on button 1 or 2 to recall the corresponding memorised position.
The completion of the adjustments is confirmed by a sound signal.
Vehicle in motion
Keep button 1 or 2 pressed down to recall the corresponding memorised position.
See also:
Rear seats
Bench seat with fi xed one-piece cushion and split backrest (left hand 2/3, right hand 1/3) which can be folded individually to adapt the load space in the boot. ...
Wipers
FRONT WIPERS Control positions 2: Rapid wipe. 1: Normal wipe. I: Intermittent wipe. 0: Off. One press downwards: AUTO: Automatic wipe activated. Single wipe. Position I: The speed of the wi ...
CD changer source
CD Changer This unit (if fitted) is located under the front centre armrest and can receive 6 CDs. Inserting CDs into the magazine - To insert a CD, press the LOAD button, then the one for the slo ...