Memorisation of driver's adjustments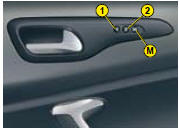 The memorisation function allows you to make the following dashboard adjustments:
Driver's seat.
Exterior rear view mirrors.
Air conditioning (temperature and air flow).
You have the possibility to memorise two driving positions using buttons 1 and 2.
Memorisation of driving positions
a. Place the igntion key in "Drive" position (second position).
b Adjust your seat, the exterior rear view mirrors and the air conditioning.
c Press successively on button M then on button 1 (first driving position) or 2 (second driving position).
The memorisation is confirmed by a sound signal.
Note: The memorisation of a new driving position cancels and replaces the previous one.
Recall of a memorised driving position
Vehicle stationary (ignition on or engine runnin
Press briefly on button 1 or 2 to recall the corresponding memorised position.
The completion of the adjustments is confirmed by a sound signal.
Vehicle in motion
Keep button 1 or 2 pressed down to recall the corresponding memorised position.
See also:
Exterior perimiter protection
The system detects opening of the vehicle. The alarm is triggered if anyone tries to enter the vehicle by forcing a door, the boot or the bonnet. ...
Rear lamps
1. Brake/sidelamps (P21/5W). 2. Direction indicators ( PY21W amber) 3. Foglamp, left-hand side ( PR21W red) Reversing lamp right-hand side (P21W). Amber or red bulbs, such as those for the d ...
Manual gearbox
5 speed gearbox Reverse gear Do not select reverse gear until the vehicle is completely stationary. Depress the clutch pedal and wait a few moments before gently engaging reverse gear. 6 spee ...