Memorisation of driver's adjustments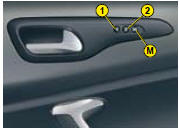 The memorisation function allows you to make the following dashboard adjustments:
Driver's seat.
Exterior rear view mirrors.
Air conditioning (temperature and air flow).
You have the possibility to memorise two driving positions using buttons 1 and 2.
Memorisation of driving positions
a. Place the igntion key in "Drive" position (second position).
b Adjust your seat, the exterior rear view mirrors and the air conditioning.
c Press successively on button M then on button 1 (first driving position) or 2 (second driving position).
The memorisation is confirmed by a sound signal.
Note: The memorisation of a new driving position cancels and replaces the previous one.
Recall of a memorised driving position
Vehicle stationary (ignition on or engine runnin
Press briefly on button 1 or 2 to recall the corresponding memorised position.
The completion of the adjustments is confirmed by a sound signal.
Vehicle in motion
Keep button 1 or 2 pressed down to recall the corresponding memorised position.
See also:
Monitoring
Instrument panel A. Fuel gauge and low fuel warning lamp. B. Cruise control/speed limiter information. C. Coolant temperature. D. Speed indicator. E. Instrument panel. F. Mileage recorder. G. ...
Vehicle identification
A Chassis number plate On the left hand door centre pillar. 1. EU type approval number. 2. Vehicle identification No. (VIN). 3. Gross vehicle weight. 4. Gross train weight. 5. Maximum weight on ...
Engine compartment fusebox
The fusebox is placed in the engine compartment near the battery (left-hand side). Access to the fuses Unclip the cover. Change the fuse (see corresponding paragraph). When you have fi ...