Vehicle identification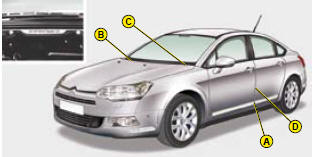 A Chassis number plate On the left hand door centre pillar.
1. EU type approval number.
2. Vehicle identification No. (VIN).
3. Gross vehicle weight.
4. Gross train weight.
5. Maximum weight on front axle.
6. Maximum weight on rear axle.
B Body serial number
C S erial number on dashboard
D Paint colour code and tyre reference
Tyre pressure
On the left hand door centre pillar.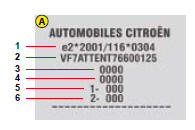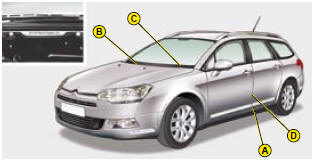 The vehicle type and the identification number are also indicated on the registration document.
All CITROËN original replacement parts are available exclusively within the dealer network.
For your safety and in order to remain within the terms of the guarantee, you are advised to use only CITROËN replacement parts.
See also:
Instrument panel
On opening the driver's door or unlocking with the remote control, for approximately 30 seconds the instrument panel is activated, displaying the mileage recorders and if applicable, the maintenan ...
Controls
From the control panel of your Audio system, you can: press the "MENU" button to gain access to the general menu , press the "  " or "  " butto ...
Panoramic sunroof (Tourer)
This device comprises a tinted glass panoramic surface 1 to improve brightness and vision in the passenger compartment. It is fitted with an electrical blind 2 to help maintain a comfortable temp ...