Vehicle identification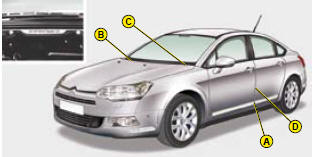 A Chassis number plate On the left hand door centre pillar.
1. EU type approval number.
2. Vehicle identification No. (VIN).
3. Gross vehicle weight.
4. Gross train weight.
5. Maximum weight on front axle.
6. Maximum weight on rear axle.
B Body serial number
C S erial number on dashboard
D Paint colour code and tyre reference
Tyre pressure
On the left hand door centre pillar.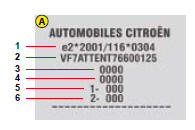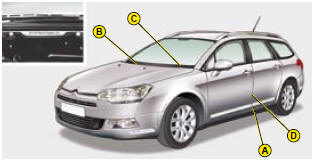 The vehicle type and the identification number are also indicated on the registration document.
All CITROËN original replacement parts are available exclusively within the dealer network.
For your safety and in order to remain within the terms of the guarantee, you are advised to use only CITROËN replacement parts.
See also:
Seat belts
Seat belt height adjustment (5-door model) The correct positioning for the seat belt anchorage is mid-shoulder height. To adjust it, pinch the control and slide it in the desired direction. Ho ...
Automatic gearbox
The automatic gearbox offers: D: operation in auto-active automatic mode, adapting automatically to your style of driving. M: operation in sequential mode, with manual gear changing. D and a pr ...
Safety recommendations
Towbar We recommend that you use CITROËN towbars and harnesses which have been tested and approved during the design of your vehicle, and that these devices are fitted by a CITROËN de ...