Steering lock - Ignition - Starter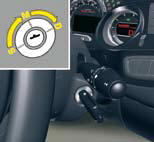 S: Steering lock
To unlock the steering, gently move the steering wheel while turning the key, without exerting undue force.
When you remove the key, turn your steering wheel to lock the steering. The key can only be removed when in position S.
NEVER REMOVE THE IGNITION KEY BEFORE THE ENGINE HAS COME TO A COMPLETE STOP.
IT IS ESSENTIAL AL WAYS TO DRIVE WITH THE ENGINE RUNNING , SO AS TO RETAIN STEERING AN D BRA KING ASSISTANCE (risk of the steering lock engaging and loss of safety features).
When stationary, having removed the key, carefully turn the steering wheel if you wish to lock the steering.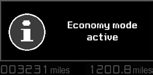 Economy mode
When the engine is stopped, some functions (audio system, screen wipe, electric windows, sunroof, electric seats, telephone, video, interior lighting etc.) are only electrically supplied for a maximum period of 30 minutes, to avoid discharging the battery.
Once this period is over, a message is displayed on the instrument panel screen and the active functions are placed on standby.
The electrical components relating to comfort and also the headlamps (not sidelamps or hazard warning lamps) cut out automatically. To reactivate them, it is necessary to start the engine.
See also:
Daytime running lamps
On vehicles fi tted with daytime running lamps, the dipped beams come on when the vehicle is started. This warning lamp comes on on the instrument panel. The instruments and controls (instrument ...
Removing the wheel
Parking the vehicle Immobilise the vehicle where it does not block traffi c: the ground must be level, stable and not slippery. Apply the parking brake, switch off the ignition and engage fi r ...
Rear lamps
(3-door model) Identify the failed bulb. Bulbs: - Direction indicator: P21 W. - Reversing lamp: P21 W. - Stop lamps and sidelamps: P21/5. Removal To have access to the nut B, detach the boot ...