Fragrance cartridge
This cartridge can be removed easily. The fi rst time it is used, replace the plug with a real cartridge
You can change it at any time and store it in the sealed case which keeps it closed once it has been opened.
You can obtain different fragrance cartridges from CITROËN dealers.
Do not discard the original cartridge as this serves as a plug when no fragrance cartridge is in use.
In order to preserve the service life of the cartridge, turn the dial fully to the left when you no longer wish to diffuse the fragrance in the passenger compartment.
As a safety precaution, do not carry out any action on the cartridge while driving.
Do not dismantle the cartridges.
Do not attempt to refi ll the fragrance diffuser or the cartridges.
Use genuinel CITROËN cartridges only.
Avoid all contact with the skin and eyes.
Keep out of reach of children and animals.
Removing the cartridge
Press the dial and turn it a quarter of a turn anti-clockwise.
Remove the cartridge.
Refi t its sealing case.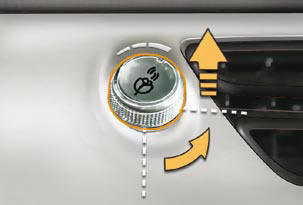 Fitting the cartridge
Remove the cartridge from the sealing case.
Install the cartridge (fl ower at top left).
Press the dial and turn it a quarter of a turn clockwise.
See also:
Seat belts
Seat belt height adjustment (5-door model) The correct positioning for the seat belt anchorage is mid-shoulder height. To adjust it, pinch the control and slide it in the desired direction. Ho ...
Hill start assist
(with 6-speed electronic gearbox system) To aid starting on a gradient, your vehicle is equipped with a system that keeps it temporarily immobilised. It keeps the brakes applied for a brief moment, ...
12 V accessories socket
To connect a 12 V accessory (max power: 120 Watts), remove the cover and connect a suitable adaptor. ...