Citroën C5
Citroën C5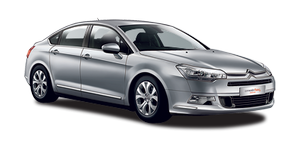 The C5 helped re-establish Citroen's credentials as a maker of quality cars. The interior, which features lots of standard equipment, was the best for quality and luxury ever seen in a Citroen when the car launched in 2008. The C5 is also very spacious and comfortable, and beats the Ford Mondeo and Vauxhall Insignia for the smoothness of its suspension and ride. The C5 is available as a saloon or Tourer estate. Both offer stylish looks and plenty of space, and are very relaxing to drive.
See also:
Display A
Presentation: 1 - T ime 2 - D ate and Display zone 3 - A mbient temperature If the outside temperature is between +3 °C and -3 °C, the temperature display flashes (risk of ice). Note: The out ...
Tyre pressure sensors
This function alerts you in the event of a tyre being deflated or punctured. For this purpose, sensors continuously monitor the condition of the vehicle's wheels. This system does not absolve the ...
I.C.E. cool
Citroën DS3 is available with Citroën's latest in-car technology such as the integrated MyWay satellite navigation unit which incorporates a sophisticated audio and multimedia system, wi ...