Ignition switch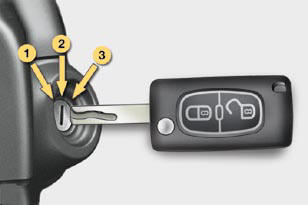 - Position 1: Stop
- Position 2: Ignition
- Position 3: Starting
Lost keys
Visit a CITROËN dealer with the vehicle's V5 registration document and your personal identifi cation documents. The CITROËN dealer will be able to retrieve the key code and the transponder code required to order a replacement key.
Remote control
The high frequency remote control is a sensitive system; do not operate it while it is in your pocket as there is a possibility that it may unlock the vehicle, without you being aware of it.
Do not repeatedly press the buttons of your remote control out of range and out of sight of your vehicle. You run the risk of stopping it from working and the remote control would have to be reinitialised.
The remote control does not operate when the key is in the ignition, even when the ignition is switched off, except for reinitialisation.
Locking the vehicle
Driving with the doors locked may make access to the passenger compartment by the emergency services more diffi cult in an emergency.
As a safety precaution (with children on board), remove the key from the ignition when you leave the vehicle, even for a short time.
Anti-theft protection
Do not make any modifi cations to the electronic engine immobiliser system; this could cause malfunctions.
When purchasing a second-hand vehicle
Have the key codes memorised by a CITROËN dealer, to ensure that the keys in your possession are the only ones which can start the vehicle.
Do not throw the remote control batteries away, they contain metals which are harmful to the environment.
Take them to an approved collection point.
See also:
Access
Locking/unlocking from the inside With the doors and the boot closed, pressing button A allows you to control the electric central locking and unlocking. It is still possible to open the doors f ...
Indicator and warning lamps
Visual indicators informing the driver that a system is in operation (operation or deactivation indicator lamps) or of the occurrence of a fault (warning lamp). When the ignition is switched on Ce ...
Interior features
Scented air freshener The scented air freshener diffuses the selected fragrance throughout the passenger compartment from its location in the ventilation system. Automatic air conditioning Aft ...