Automatic lighting
The sidelamps and dipped headlamps are switched on automatically, without any action on the part of the driver, when a low level of external light is detected or in certain cases of activation of the windscreen wipers.
As soon as the brightness returns to a suffi cient level or after the windscreen wipers are switched off, the lamps are switched off automatically.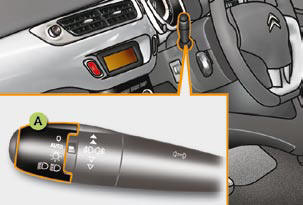 Activation
Turn ring A to the "AUTO" position. The automatic lighting is accompanied by a message on the multifunction screen.
Deactivation
Turn ring A to a position other than "AUTO" . Deactivation is accompanied by a message on the multifunction screen.
Coupling with the automatic "Guide-me-home" lighting
Association with the automatic lighting provides "guide-me-home" lighting with the following additional options:
- selection of the lighting duration to 15, 30 or 60 seconds in the vehicle parameters on the multifunction screen confi guration menu (except in the case of the monochrome screen A, for which the duration is set: 60 seconds),
- automatic activation of "guide-mehome" lighting when automatic lighting is in operation.
Operating fault
In the event of a fault with the brightness sensor, the lighting come on, this warning lamp is displayed on the instrument panel and/or a message appears on the multifunction screen, accompanied by an audible signal. Consult a CITROËN dealer.
In fog or snow, the brightness sensor may detect suffi cient light. Therefore, the lighting will not come on automatically.
Do not cover the brightness sensor, coupled with the rain sensor and located in the centre of the windscreen behind the interior mirror; the associated functions would no longer be controlled.
See also:
Dimensions (saloon)
* Without roof bars. * Without roof bars. ...
Leaving limiter mode
Turn thumb wheel 1 to the "0" position: the speed limiter mode is deselected. The display returns to the distance recorder. ...
Bluetooth®
Your audio system may be Bluetooth® compatible. It allows you to connect a mobile telephone for use "hands free" and even to use its directory. It permits you to twin up to four telephones, to be a ...