Automatic lighting
The sidelamps and dipped headlamps are switched on automatically, without any action on the part of the driver, when a low level of external light is detected or in certain cases of activation of the windscreen wipers.
As soon as the brightness returns to a suffi cient level or after the windscreen wipers are switched off, the lamps are switched off automatically.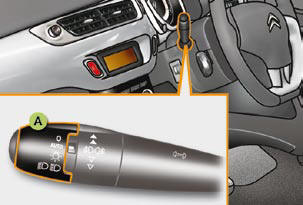 Activation
Turn ring A to the "AUTO" position. The automatic lighting is accompanied by a message on the multifunction screen.
Deactivation
Turn ring A to a position other than "AUTO" . Deactivation is accompanied by a message on the multifunction screen.
Coupling with the automatic "Guide-me-home" lighting
Association with the automatic lighting provides "guide-me-home" lighting with the following additional options:
- selection of the lighting duration to 15, 30 or 60 seconds in the vehicle parameters on the multifunction screen confi guration menu (except in the case of the monochrome screen A, for which the duration is set: 60 seconds),
- automatic activation of "guide-mehome" lighting when automatic lighting is in operation.
See also:
Lane Departure Warning System
This driving assistance device warns you when you unwittingly cross a lane marking (either a continuous or a dotted line on the road surface). It is designed for use on motorways and dual carriage ...
Access to the tools
The extraction pliers and the spare fuse storage locations are fi tted to the back of the dashboard fusebox cover. For access to them: open the glove box lid, unclip the fusebox cover by pull ...
Impact detection zones
A. Front impact zone. B. Side impact zone. Triggering of the airbag(s) is accompanied by a slight emission of harmless smoke and a noise, due to the activation of the pyrotechnic cartridge inc ...