Programming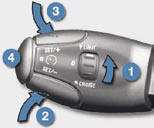 Turn thumb wheel 1 to the "LIMIT" position: the speed limiter mode is selected but is not switched on (PAUSE).
You do not have to switch the speed limiter on in order to set the speed.
Set the speed value by pressing button 2 or 3 (e.g.: 55 mph (90 km/h)).
You can then change the programmed speed using buttons 2 and 3 :
- by + or - 1 mph (km/h) = short press,
- by + or - 5 mph (km/h) = long press,
- in steps of + or - 5 mph (km/h) = maintained press.
Switch the speed limiter on by pressing button 4 .
Switch the speed limiter off by pressing button 4 : the display confi rms that it has been switched off (PAUSE).
Switch the speed limiter back on by pressing button 4 again.
See also:
Dashboard
1 Electric windows / rear view mirrors / Child safety controls 2 Memorisation of driver's seat, rear view mirrors and air conditioning settings 3 Controls at the steering wheel: Speed limiter Cr ...
Wiper controls
System for selection and control of the various front and rear wiping modes for the elimination of rain and cleaning. The vehicle's front and rear wipers are designed to improve the driver's visib ...
Audible and/or visual rear parking assistance
This system consists of four proximity sensors, located in the rear bumper. This detects any obstacle (person, vehicle, tree, gate, etc.) behind the vehicle, except obstacles located just below ...