Operating fault
In the event of a speed limiter malfunction, the speed is cleared resulting in fl ashing of the dashes.
Have the system checked by a CITROËN dealer.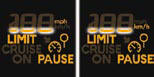 On a steep descent or in the event of sharp acceleration, the speed limiter will not be able to prevent the vehicle from exceeding the programmed speed.
To avoid any risk of jamming of the pedals:
- ensure that the mat is positioned correctly,
- do not fi t one mat on top of another.