Activation
The system is activated as soon as reverse gear is engaged, accompanied by an audible signal.
The proximity information is given by:
- an audible signal, which becomes more rapid as the vehicle approaches the obstacle,
- a graphic on the multifunction screen, with blocks which become increasingly closer to the vehicle.
When the distance between the rear of the vehicle and the obstacle is less than thirty centimetres, the audible signal becomes continuous and the "Danger" symbol appears on the multifunction screen.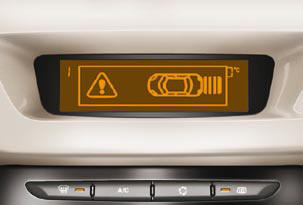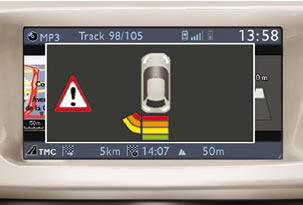 On completion of the manoeuvre, when you exit reverse gear, the system becomes inactive.
The rear parking assistance system cannot, in any circumstances, take the place of the vigilance and responsibility of the driver.
See also:
Overview
Citroën has announced the new Citroën DS3 will be unveiled at the Frankfurt Motor Show 2009. The Citroën DS3 will be the first model from Citroën's brand new DS line, a product ...
Cruise control
System which automatically maintains the speed of the vehicle at the value programmed by the driver, without any action on the accelerator pedal. The cruise control is switched on manually: it re ...
"Hydractive III+" suspension
"Hydractive III +" suspension automatically adjusts to road surface conditions and driving style. It allows you to alternate between soft and firm suspension settings, maximising comfort at the ...