Removing the wheel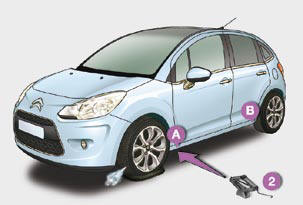 Parking the vehicle
Immobilise the vehicle where it does not block traffi c: the ground must be level, stable and not slippery.
Apply the parking brake, switch off the ignition and engage fi rst gear * to lock the wheels.
If necessary, place a chock under the wheel diagonally opposite the wheel to be changed.
It is imperative that you ensure that the occupants get out of the vehicle and wait where they are safe.
Never go underneath a vehicle raised using a jack; use an axle stand.
List of operations
Remove the chromed bolt cover from each of the bolts using the tool 3 .
Fit the security bolt socket 4 on the wheelbrace 1 to slacken the security bolt.
Slacken the other bolts using the wheelbrace 1 only.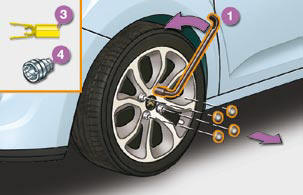 Place the jack 2 in contact with one of the two front A or rear B locations provided on the underbody, whichever is closest to the wheel to be changed.
Extend the jack 2 until its base plate is in contact with the ground. Ensure that the centreline of the jack base plate is directly below the location A or B used.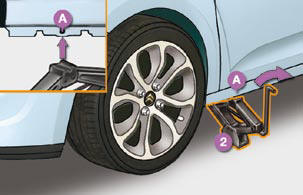 Raise the vehicle until there is suffi cient space between the wheel and the ground to admit the spare (not punctured) wheel easily.
Remove the bolts and store them in a clean place.
Remove the wheel.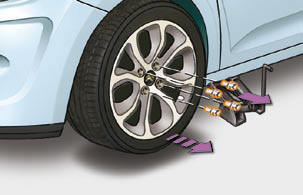 * position P for an automatic gearbox.
See also:
Diesel engines HDi 173 - V6 HDi 208 (with particle filter)
1. Screen wash and headlamp wash reservoir. 2. Power steering and suspension fluid reservoir. 3. Engine coolant reservoir. 4. Engine oil gauge. 5. Engine oil topping-up. 6. Air filter. 7. Brak ...
Signalling
Direction indicators Left: move the stalk downwards. Right: move the stalk upwards. Movement of the steering wheel returns the stalk to the off position automatically. Headlamp flash Pull the s ...
Manual gearbox
5 speed gearbox Reverse gear Do not select reverse gear until the vehicle is completely stationary. Depress the clutch pedal and wait a few moments before gently engaging reverse gear. 6 spee ...