Identification markings
Various visible markings for the identifi - cation of your vehicle.
A. Vehicle identifi cation number (VIN) under the bonnet.
This number is engraved on the bodywork near the damper mounting.
B. Vehicle identifi cation number on the dashboard.
This number is indicated on a selfadhesive label which is visible through the windscreen.
C. Manufacturer's label.
The VIN is indicated on a self-destroying label affi xed to the driver's centre pillar.
D. Tyre/paint label.
This label is affi xed to the driver's centre pillar.
It bears the following information:
- the tyre pressures, for unladen and laden conditions,
- the wheel rim and tyre sizes,
- the brands of tyre recommended by the manufacturer,
- the spare tyre infl ation pressure,
- the paint colour code.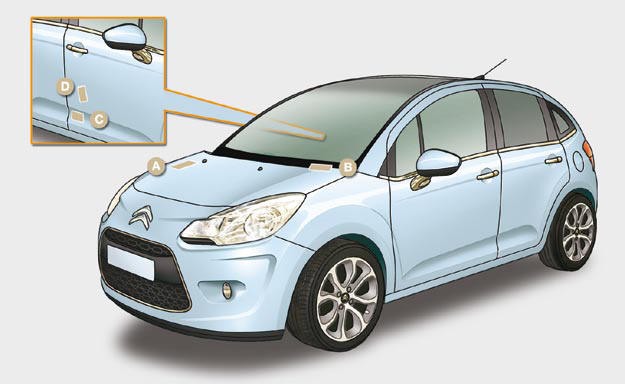 Wheels which are fi tted with 205/45 R17 tyres cannot be fi tted with snow chains. For further information, contact a CITROËN dealer.
The infl ation pressure must be checked when the tyres are cold, at least once a month.
If the infl ation pressure is too low, this increases fuel consumption.
See also:
Safety advice
Any operation under the bonnet necessitates a number of safety precautions. Be particularly careful both before and during all checks under the bonnet: Allow the engine to cool down. Keep children ...
Anti-tamper function
The system detects the putting out of service of its components. The alarm is triggered if anyone tries to put the wires of the siren, the central control or the battery out of service. Do not ma ...
Hill start assist
(with 6-speed electronic gearbox system) To aid starting on a gradient, your vehicle is equipped with a system that keeps it temporarily immobilised. It keeps the brakes applied for a brief moment, ...