Passenger safety
Activation/Deactivation of the front passenger's airbag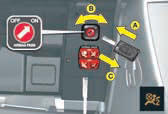 A. Insert the ignition key.
B. Select the "ON" or "OFF" position.
C. Remove the key.
Warnings for seat belts unfastened/not fastened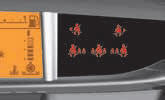 Driver

Front passenger.

Left rear passenger.

Centre rear passenger.

Right rear passenger.
Child safety


A. Manual control.
B. Electric control.
See also:
Efficient engineering
Citroën has utilised the latest industrial technologies, along with a 'part by part' focus on reducing the weight and number of components in new C4. For example, the laser welding on the roo ...
Gear change indicator
System which reduces fuel consumption by advising the driver to change up on vehicles fi tted with a manual gearbox. ...
Lane departure warning system
This driving assistance device alerts you if you are wandering from your lane (continuous or dotted line marking on the road surface). It is designed especially for use on motorways and dual car ...