Passenger safety
Activation/Deactivation of the front passenger's airbag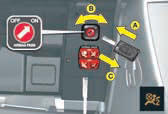 A. Insert the ignition key.
B. Select the "ON" or "OFF" position.
C. Remove the key.
Warnings for seat belts unfastened/not fastened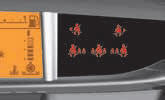 Driver

Front passenger.

Left rear passenger.

Centre rear passenger.

Right rear passenger.
Child safety


A. Manual control.
B. Electric control.
See also:
Panoramic sunroof (Tourer)
This device comprises a tinted glass panoramic surface 1 to improve brightness and vision in the passenger compartment. It is fitted with an electrical blind 2 to help maintain a comfortable temp ...
12 V battery
All engines except V6 HDi Starting the engine after disconnecting and reconnecting the battery 1. Turn the ignition key. 2. Wait approximately 1 minute before operating the starter in order to allo ...
Programmable heating
With the engine off, programmable heating preheats the coolant circuit in order to optimise the engine operating temperature prior to starting. The programmable heating system can be started imme ...