Ventilation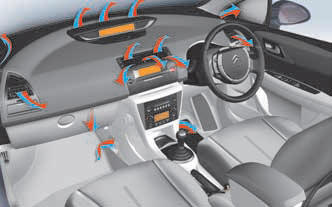 Air intake
Make sure that the exterior air inlet grille at the base of the windscreen is clean (free of dead leaves, snow etc.).
If washing the vehicle with a high pressure jet, take care to avoid targeting close to the air inlet.
Air vents
The air vents have grilles for directing the flow of air (up/down, right/ left) with controls for adjusting the volume of air.
Air circulation
Optimal comfort is obtained by a good distribution of air in the front and the rear of the passenger compartment.
To ensure efficient operation, take care not to obstruct the air outlets located under the front seats.
Pollen filter/odour filter (active carbon)
Your installation has a filter for excluding dust and restricting disagreeable odours.
This filter needs to be changed according to the maintenance requirements.
(See: Maintenance Guide).
Air conditioning
At any time of year, the air conditioning is useful for removing air humidity and misting.
To keep the air conditioning compressor well sealed, it is essential to operate the air conditioning at least once in every month.
To be effective, the air conditioning should only be used with the windows closed.
If you are towing a heavy trailer or if outside temperatures are very high, the air conditioning may be temporarily interrupted in favour of engine cooling.
Water arising from condensation in the air conditioning is allowed to drain out through an aperture provided for this purpose; a pool of water may thus form beneath the vehicle when stationary.
You are recommended to have the air conditioning system checked on a regular basis (see Maintenance Guide).
The air conditioning uses energy from the engine to operate. This results in extra fuel consumption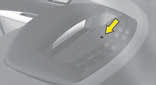 Sensor
The automatic air conditioning inside the passenger compartment makes use of the sunlight sensor, which is located on the dashboard behind the instrument panel.
Take care not to obstruct it.
Heating/ventilation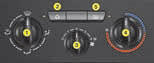 See also:
Automatic gearbox
4 and 6 speed automatic gearbox Parking (Position P). Reverse gear (Position R). Neutral (Position N). The automatic gearbox offers you: Operation in auto-active mode, with automatic adaptati ...
Rear view mirrors
Interior rear view mirror The lever on the lower edge enables you to place the rear view mirror in either of two positions. Day position: the lever is not visible. Night position (anti-dazzle): ...
Air intake
The air circulating in the passenger compartment is fi ltered and originates either from the outside via the grille located at the base of the windscreen or from the inside in air recirculation mo ...