Manual air conditioning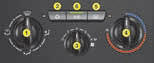 The heating/ventilation and manual air conditioning systems can only function with the engine running.
1 - Adjustment of the air distribution

Demisting - Defrosting. Flow to the windscreen and front side windows.

Distribution to the windscreen, side windows and footwells.

Flow to front and rear passenger footwells.

Air flow to the face level vents.
Distribution from the air blower can be altered at will by placing the distributor 1 in an intermediate position.
2 - Air recirculation

This position is for excluding disagreeable odours or emissions coming from outside the cabin. With a press on control 2, the entry of air from outside is closed off, the lamp comes on.
This should be cancelled as soon as possible to prevent misting and to allow fresh air into the cabin.
To deactivate air recirculation, press again on control 2, the warning lamp goes out.
3 - Heater blower control
The air blower operates only when the engine is running. For optimum comfort in the passenger compartment, the control should not remain in position 0 (position 1 minimum).
4 - Temperature control
5 - Rear screen demisting
Can only be operated with the engine running.

One press on control 5 activates the electric demisting of the rear screen and, according to version, the exterior rear view mirrors. The warning lamp comes on.
It switches off automatically to avoid excessive consumption of power. One press stops the demisting. A further press starts it again.
Note: If the engine is stopped before the end of demisting, the latter will resume the next time the engine is started.
6 - Air conditioning
The air conditioning will only operate when the engine is running.

Press on control 6. The warning lamp comes on.
For air conditioning, the air blower control 3 must not be on position "0".
Air conditioning is obtained by mixing the warm air with refrigerated air. The control for the blown air temperature 4 adjusts the air conditioning provided the control 6 is operational.

Demisting-deicing of the windscreen and front side windows
- Place the controls for temperature and air flow on maximum.
- Close the central air vents.
- Operate the air conditioning by pressing the control 6, the warning lamp comes on.
Note: you should not be in air recirculation.
See also:
Temporary puncture repair kit
Complete system consisting of a compressor and an incorporated sealant cartridge which permits temporary repair of the tyre so that you can drive to the nearest garage. ...
Fragrance cartridge
This cartridge can be removed easily. The fi rst time it is used, replace the plug with a real cartridge You can change it at any time and store it in the sealed case which keeps it closed once i ...
Steering lock - Ignition - Starter
S: Steering lock To unlock the steering, gently move the steering wheel while turning the key, without exerting undue force. When you remove the key, turn your steering wheel to lock the steerin ...