Scented air freshener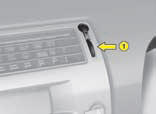 The scented air freshener is located to the right of the central air vent.
You can stop or adjust the flow of scented air, via control 1.
The central air vents should be open.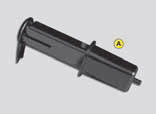 To remove the cartridge, take the cap A off the new cartridge that you will fit and put it on the cartridge you are removing.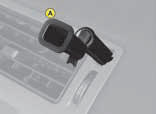 To remove the cartridge, take the cap A from your new cartridge and place it in the small orifice of the cartridge you are removing. Pull.
The cartridges need replacing from time to time.
As a matter of safety, use the scented air freshener and cartridges only for the purpose intended, in conformity with the user instructions.
Keep the cartridge packaging together with the user instructions and precautions.
Do not dismantle the cartridges.
Do not touch the scent mesh.
Never try to refill the scented air freshener or the cartridges with a freshener other than those approved by CITROËN.
Keep these items away from children and animals.
Avoid them coming into contact with the skin or eyes.
In the event of ingestion, consult a doctor and show him the packaging or the label.
Do not install, remove or adjust a cartridge while driving.
See also:
Scented air freshener
System permitting the diffusion of a fragrance in the passenger compartment in accordance with your requirements, by means of the adjustment dial and the various fragrance cartridges available. ...
Diesel injection equipment
Bleeding of water from the diesel fuel filter To be bled on a regular basis (at every oil change). To evacuate the water, slacken the bleed screw or the water in diesel fuel sensor, which is loca ...
"Telephone" Menu
With Audio system on, once this menu is selected you can confi gure your Bluetooth hands-free kit (pairing), view the various telephone directories (list of calls, services...) and manage your ...