Scented air freshener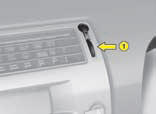 The scented air freshener is located to the right of the central air vent.
You can stop or adjust the flow of scented air, via control 1.
The central air vents should be open.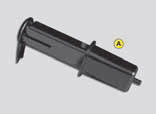 To remove the cartridge, take the cap A off the new cartridge that you will fit and put it on the cartridge you are removing.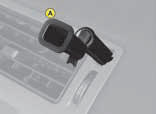 To remove the cartridge, take the cap A from your new cartridge and place it in the small orifice of the cartridge you are removing. Pull.
The cartridges need replacing from time to time.
As a matter of safety, use the scented air freshener and cartridges only for the purpose intended, in conformity with the user instructions.
Keep the cartridge packaging together with the user instructions and precautions.
Do not dismantle the cartridges.
Do not touch the scent mesh.
Never try to refill the scented air freshener or the cartridges with a freshener other than those approved by CITROËN.
Keep these items away from children and animals.
Avoid them coming into contact with the skin or eyes.
In the event of ingestion, consult a doctor and show him the packaging or the label.
Do not install, remove or adjust a cartridge while driving.
See also:
Headlamp adjustment
To avoid causing a nuisance to other road users, the height of the headlamps should be adjusted in relation to the load in the vehicle. 0 . 1 or 2 people in the front seats. -. 3 people. 1. 5 ...
Remote control key
A. Unfolding/Folding the key. B. Unlocking the vehicle. Other functions... C. Normal locking of the vehicle or Deadlocking of the vehicle. Vehicle location. ...
RDS sytem
Using the RDS (radio data system) function on FM The majority of FM radio stations use the RDS system. The radio in your vehicle has this system. The RDS system enables these stations to transmit n ...