Interior rear view mirror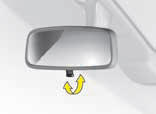 Manual interior mirror
The lever on the lower edge enables you to place the rear view mirror in either of two positions:
Day position: the lever is not visible.
Night position (antidazzle): the lever is visible.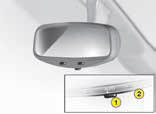 Automatic photochromic interior rear view mirror
This provides an automatic and progressive changing between day use and night use.
To avoid causing dazzle, the mirror automatically becomes darker depending on the intensity of light coming from the rear. It becomes lighter as soon as brightness diminishes, thus ensuring optimal vision.
To operate
Switch on the ignition and press control 1.
- Warning lamp 2 on: automatic mode.
- Warning lamp 2 off: automatic mode stopped. The mirror remains in its lightest definition.
Note: for optimal vision, the mirror lightens automatically when reverse gear is engaged.
See also:
Brakes
Braking system Your vehicle's most important safety feature, the braking system, is provided by brake discs (or discs and drums) and a dual hydraulic circuit. When the engine is running, power as ...
Intelligent architecture for one of the most compact models in the segment
The new Citroen C3 is one of the most compact vehicles in its segment. At 3.94 m long and 1.71 m wide with a 10.8 m turning circle, it is perfectly dimensioned for city driving. The compact exte ...
Signalling
Direction indicators Left: move the stalk downwards. Right: move the stalk upwards. Movement of the steering wheel returns the stalk to the off position automatically. Headlamp flash Pull the s ...