Signalling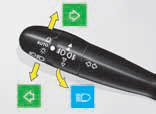 Direction indicators
Left: move the stalk downwards.
Right: move the stalk upwards.
Movement of the steering wheel returns the stalk to the off position automatically.
Headlamp flash
Pull the stalk towards you to flash headlamps.
The headlamp flash operates even with the ignition off.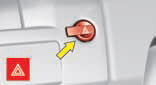 Hazard warning lamps
Simultaneous operation of the direction indicators.
Only use these if there is danger, for example when you have to stop suddenly or in unusual driving conditions.
They also operate without the ignition being on.
Driving with the hazard warning lamps on renders the direction indicators inoperable.
Emergency lighting of hazard warning lamps
Sudden vehicle deceleration automatically causes the hazard warning lamps to activate.
These cease automatically when you reaccelerate or manually if you press the hazard warning lamps control on the dashboard.
See also:
Locking rear doors
Manual operation Rear doors are locked by operating the lever on the rear face of the door in question. When the manual safety is in use, the aperture is horizontal. Electric operation The el ...
Manual parking brake
Parking brake The parking brake is engaged, with the vehicle stationary, by pulling on the lever with a force appropriate to the slope. To facilitate the action on the lever, you are recommended ...
Windows
Electric windows The driver uses the controls located on the door to operate the vehicle's electric windows. Note: the electric windows can also be operated for a limited time after the igniti ...