Signalling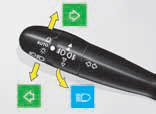 Direction indicators
Left: move the stalk downwards.
Right: move the stalk upwards.
Movement of the steering wheel returns the stalk to the off position automatically.
Headlamp flash
Pull the stalk towards you to flash headlamps.
The headlamp flash operates even with the ignition off.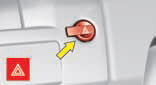 Hazard warning lamps
Simultaneous operation of the direction indicators.
Only use these if there is danger, for example when you have to stop suddenly or in unusual driving conditions.
They also operate without the ignition being on.
Driving with the hazard warning lamps on renders the direction indicators inoperable.
Emergency lighting of hazard warning lamps
Sudden vehicle deceleration automatically causes the hazard warning lamps to activate.
These cease automatically when you reaccelerate or manually if you press the hazard warning lamps control on the dashboard.
See also:
Interior rear view mirror
Manual interior mirror The lever on the lower edge enables you to place the rear view mirror in either of two positions: Day position: the lever is not visible. Night position (antidazzle): the ...
Dashboard fusebox
The fuse box is placed in the lower section of the dashboard (left-hand side). Access to the fuses Refer to the paragraph "Access to the tools". Fuse tables ...
Cold weather screen "snow guard"
The screen supplied with the vehicle (depending on country) should be fitted during the winter period. It is essential to remove it when temperatures are above 10 degrees Celsius. Don't forget to ...