Signalling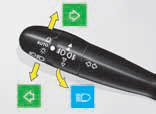 Direction indicators
Left: move the stalk downwards.
Right: move the stalk upwards.
Movement of the steering wheel returns the stalk to the off position automatically.
Headlamp flash
Pull the stalk towards you to flash headlamps.
The headlamp flash operates even with the ignition off.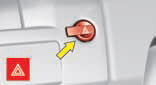 Hazard warning lamps
Simultaneous operation of the direction indicators.
Only use these if there is danger, for example when you have to stop suddenly or in unusual driving conditions.
They also operate without the ignition being on.
Driving with the hazard warning lamps on renders the direction indicators inoperable.
Emergency lighting of hazard warning lamps
Sudden vehicle deceleration automatically causes the hazard warning lamps to activate.
These cease automatically when you reaccelerate or manually if you press the hazard warning lamps control on the dashboard.
See also:
Deactivation
In exceptional conditions (starting a vehicle which is bogged down, stuck in snow, on soft ground...), it may be advisable to deactivate the ASR and ESP systems, so that the wheels can move freel ...
Operating faults
If there is an operating fault, when reverse gear is engaged the service warning lamp comes on, accompanied by an audible signal (short beep) and a message on the multifunction screen. In bad or ...
Memorisation of driver's adjustments
The memorisation function allows you to make the following dashboard adjustments: Driver's seat. Exterior rear view mirrors. Air conditioning (temperature and air flow). You have the possibi ...