Signalling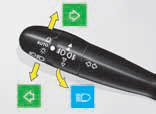 Direction indicators
Left: move the stalk downwards.
Right: move the stalk upwards.
Movement of the steering wheel returns the stalk to the off position automatically.
Headlamp flash
Pull the stalk towards you to flash headlamps.
The headlamp flash operates even with the ignition off.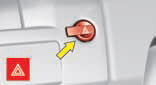 Hazard warning lamps
Simultaneous operation of the direction indicators.
Only use these if there is danger, for example when you have to stop suddenly or in unusual driving conditions.
They also operate without the ignition being on.
Driving with the hazard warning lamps on renders the direction indicators inoperable.
Emergency lighting of hazard warning lamps
Sudden vehicle deceleration automatically causes the hazard warning lamps to activate.
These cease automatically when you reaccelerate or manually if you press the hazard warning lamps control on the dashboard.
See also:
Displays
Lighting of the corresponding indicator lamp on the instrument panel confi rms the selective switching on of the lighting selected. Depending on the version, the instrument panel may have permane ...
6-speed electronic gearbox
The 6-speed electronic gearbox offers a choice of two driving modes: An automated mode with the gear lever in position A. Note: if you are in automatic mode, an instant manual mode activates whene ...
Headlamp adjustment
You are advised to adjust the aim of the headlamps in accordance with vehicle load. In the dashboard on the right hand side of the steering column. 0. 1 or 2 occupants in the front seats. -. 3 oc ...