Interior lighting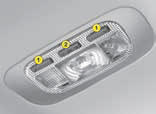 1 - Spotlamps
A press on one of the buttons will switch the corresponding spotlamp on or off. They will not come on if the ignition is switched off or the vehicle is in economy mode.
2 - Front and rear interior lamps

In this position, the interior lamp comes on when you open a door or the boot.

In this position, it is deactivated and switched off permanently. In the front, the spotlamps are deactivated.

In this position, lighting is permanent.
Welcome lighting
Automatic lighting of interior lamps
- When you enter the vehicle:
They come on immediately you unlock the vehicle or open a door.
They go out 30 seconds after doors have been closed, or after the ignition has been switched on.
- When you leave the vehicle:
They come on when you remove the ignition key (for about 30 seconds), or when a door is opened.
They go out after 30 seconds with the doors closed, or immediately the vehicle is locked.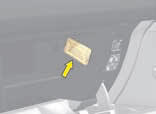 Glovebox lighting
Comes on automatically when the cover is opened. Do not forget to close it again. Does not work with the ignition off.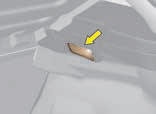 Boot lighting
Operates automatically on opening the tailgate.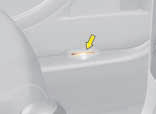 Sill lighting
These light up automatically with the interior lamps.
See also:
Safety advice
Any operation under the bonnet necessitates a number of safety precautions. Be particularly careful both before and during all checks under the bonnet: Allow the engine to cool down. Keep children ...
Fragrance cartridge
This cartridge can be removed easily. The fi rst time it is used, replace the plug with a real cartridge You can change it at any time and store it in the sealed case which keeps it closed once i ...
One-touch electric windows
There are two methods of operation: - manual mode Press or pull the switch gently. The window stops as soon as the switch is released. - automatic mode Press or pull the switch fully. Th ...