Interior lighting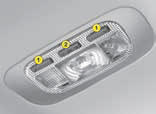 1 - Spotlamps
A press on one of the buttons will switch the corresponding spotlamp on or off. They will not come on if the ignition is switched off or the vehicle is in economy mode.
2 - Front and rear interior lamps

In this position, the interior lamp comes on when you open a door or the boot.

In this position, it is deactivated and switched off permanently. In the front, the spotlamps are deactivated.

In this position, lighting is permanent.
Welcome lighting
Automatic lighting of interior lamps
- When you enter the vehicle:
They come on immediately you unlock the vehicle or open a door.
They go out 30 seconds after doors have been closed, or after the ignition has been switched on.
- When you leave the vehicle:
They come on when you remove the ignition key (for about 30 seconds), or when a door is opened.
They go out after 30 seconds with the doors closed, or immediately the vehicle is locked.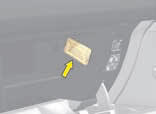 Glovebox lighting
Comes on automatically when the cover is opened. Do not forget to close it again. Does not work with the ignition off.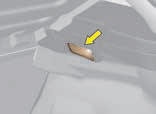 Boot lighting
Operates automatically on opening the tailgate.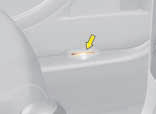 Sill lighting
These light up automatically with the interior lamps.
See also:
Safety recommendations
The ESP system offers increased driving safety but is not in place to encourage the driver to take additional risks or to drive at excessive speeds. The functioning of this system is subject to co ...
Locking rear doors
Manual operation Rear doors are locked by operating the lever on the rear face of the door in question. When the manual safety is in use, the aperture is horizontal. Electric operation The el ...
Dashboard
1 Electric windows / rear view mirrors / Child safety controls 2 Memorisation of driver's seat, rear view mirrors and air conditioning settings 3 Controls at the steering wheel: Speed limiter Cr ...