Interior lighting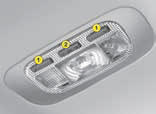 1 - Spotlamps
A press on one of the buttons will switch the corresponding spotlamp on or off. They will not come on if the ignition is switched off or the vehicle is in economy mode.
2 - Front and rear interior lamps

In this position, the interior lamp comes on when you open a door or the boot.

In this position, it is deactivated and switched off permanently. In the front, the spotlamps are deactivated.

In this position, lighting is permanent.
Welcome lighting
Automatic lighting of interior lamps
- When you enter the vehicle:
They come on immediately you unlock the vehicle or open a door.
They go out 30 seconds after doors have been closed, or after the ignition has been switched on.
- When you leave the vehicle:
They come on when you remove the ignition key (for about 30 seconds), or when a door is opened.
They go out after 30 seconds with the doors closed, or immediately the vehicle is locked.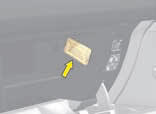 Glovebox lighting
Comes on automatically when the cover is opened. Do not forget to close it again. Does not work with the ignition off.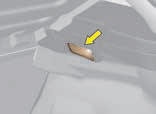 Boot lighting
Operates automatically on opening the tailgate.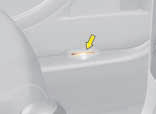 Sill lighting
These light up automatically with the interior lamps.
See also:
Maxi-fuses
* The maxi-fuses are an additional protection for the electrical systems. All work on the maxi-fuses must be done by a CITROËN dealer. ...
Access to the spare wheel
The spare wheel is installed in the boot under the fl oor. According to country, the spare wheel may be steel or of the "space saver" type. To gain access to it, refer to the paragraph ...
Seat belts
Seat belt height adjustment (5-door model) The correct positioning for the seat belt anchorage is mid-shoulder height. To adjust it, pinch the control and slide it in the desired direction. Ho ...