Locking rear doors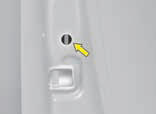 Manual operation
Rear doors are locked by operating the lever on the rear face of the door in question. When the manual safety is in use, the aperture is horizontal.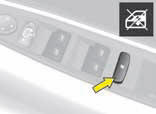 Electric operation
The electrical safety is activated by pressing the control located to the rear of the electric windows panel. This prohibits movement of the rear electric windows and rear passenger doors. It is still possible to open the doors from the outside, provided the vehicle is not locked.

If the child safety lock is activated, the warning lamp comes on for approximately 10 seconds when switching on the ignition.
This system is independent of and in no way replaces the central locking. Check the status of the child safety locks every time the ignition is switched on. Always remove the ignition key when leaving the vehicle even if only for a short time. In the event of a violent impact, the electric child safety locks are deactivated automatically to allow rear passenger to get out of the vehicle.
See also:
Headlamp adjustment
To avoid causing a nuisance to other road users, the height of the headlamps should be adjusted in relation to the load in the vehicle. 0 . 1 or 2 people in the front seats. -. 3 people. 1. 5 ...
Anti-intrusion alarm
Your vehicle may be equipped with an anti-intrusion alarm. This ensures: • Exterior perimeter protection by means of detectors on the access points (doors, tailgate, bonnet) as well as on the el ...
Displays
Lighting of the corresponding indicator lamp on the instrument panel confi rms the selective switching on of the lighting selected. Depending on the version, the instrument panel may have permane ...