Electronic stability programmes
Electronic Stability Programme (ESP) and Traction Control (ASR)
These systems are closely connected to the ABS and additional to it. Where a difference is detected between the trajectory followed by the vehicle and that wanted by the driver, the ESP system acts automatically on the brake of one or more wheels to return the vehicle to the trajectory wanted, within the limits of the laws of physics. The ASR system optimises traction and prevents wheel spin by acting on the brakes of the driving wheels. It also improves steering stability during acceleration.
Operation
When either the ESP or ASR system is brought into operation, the ESP/ASR warning lamp flashes.
Deactivation
In exceptional conditions (vehicle stuck in snow, soft ground, etc.) it may prove useful to deactivate the ESP/ASR system to allow the wheels to spin and thus regain traction. Press on control A, the ESP/ASR warning lamp and the control light up. The ESP/ASR systems are no longer active.
The ESP/ASR systems will activate again:
- Automatically after the ignition has been switched off. - Automatically when you drive at above approx. 30 mph. - Manually with another press on control A.
Operational anomaly
If there is a system malfunction, the ESP/ASR warning lamp comes on. Contact CITROËN to have the system checked.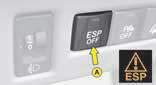 See also:
Exceeding the programmed speed
Pressing the accelerator pedal to exceed the programmed speed will not have any effect unless you press the pedal fi rmly past the point of resistance . The speed limiter is deactivated temporarily ...
e-HDi micro-hybrid technology for spectacular results
The Citroen C5 inaugurates the new micro-hybrid technology that will be widely applied to numerous models in the range. Initially it will be available with the HDi 110 DPFS version equipped with t ...
Energy and elegance
Proving that environmentally-considerate motoring doesn't mean having to compromise on style or performance, the Citroën DS3 will be available with a choice of five CO2-efficient Euro V power ...