Lane departure warning system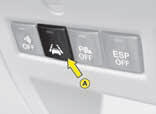 This driving assistance device alerts you if you are wandering from your lane (continuous or dotted line marking on the road surface). It is designed especially for use on motorways and dual carriageways, operating only at speeds above 80 km/h (approx. 50 mph).
Activation/Deactivation
A press on control A activates the function, the warning lamp on the control lights up. A second press on control A deactivates the function, the warning lamp on the control goes out. Whenever you start the engine, the mode (activated/deactivated), selected when you last switched off the engine, is retained.
Operation
Provided you are travelling at over 80 km/h (approx. 50 mph), if you cross a lane marking, you are alerted by a vibration within the cushion of your seat:
- oriented to the right for crossing a lane marking to the right,
- oriented to the left for crossing a lane marking to the left.
The system does not alert you while your direction indicator is operating, nor for about 20 seconds after your direction indicator has stopped.
Note: This device is designed to identify traffic lane markings. In certain specific instances, it may trigger an unwanted alert, for example when you cross a direction arrow or some other random marking.
The effectiveness of the system may be temporarily affected by conditions external to the vehicle:
Х Detection of lanes made difficult by:
- Markings that are worn or erased.
- Insufficient contrast with the surface of the road.
Х Masking of the sensors due to:
- Driving in snow or heavy rain.
- Driving on roads covered with mud or surface water.
If the system is ineffective for a prolonged period, contact a CITROËN dealer.
The driver must still remain attentive and in complete control of the vehicle.
See also:
General: c4 enterprise
* Applicable to all countries, except France and Overseas France. For France and DOM-TOM countries, refer to the table on the "Technical Specifications - Weights" page. ...
Overview
Making its world debut at the 2013 Geneva Motor Show, the new Citroen C3 strengthens and enhances the qualities of its predecessor. The result is even more C3 with new assets to win over customers ...
Checks / Oil level
Log of alerts This function allows you to display the log of alerts. Press on button A. The following messages appear consecutively on the instrument panel screen: Tyre pressure check. Mainten ...