Hill start assist
(with 6-speed electronic gearbox system)
To aid starting on a gradient, your vehicle is equipped with a system that keeps it temporarily immobilised. It keeps the brakes applied for a brief moment, precisely the time taken for moving your foot from the brake pedal to the accelerator pedal.
This function is only active when the vehicle is completely stationary, with your foot on the brake pedal, in particular conditions on a slope.


Display of these warning lamps indicates a malfunctioning of the hill start assist function.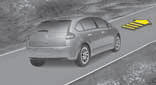 On an ascending slope, with the vehicle stationary, the vehicle is held for a brief moment when you release the brake pedal provided you are in A or M.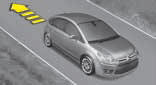 On a descending slope, provided the vehicle is stationary and reverse gear is engaged, the vehicle is held for a brief moment when you release the brake pedal.
Do not leave the vehicle during the hill start phase. The hill start function cannot be deactivated.
See also:
Headlamp adjustment
To avoid causing a nuisance to other road users, the height of the headlamps should be adjusted in relation to the load in the vehicle. 0 . 1 or 2 people in the front seats. -. 3 people. 1. 5 ...
Repositioning the seat backrest
When repositioning the rear seat backrest: Straighten the seat back 2 and secure it. Check that the red indicator, located next to the control 1 , is no longer visisble. When repositionin ...
Bonnet release
Bonnet This operation should only be performed while the vehicle is stationary. Open the door. To unlock, pull release lever A. Lift up lever B, then raise the bonnet. Note: The panel may be ...