Priming the diesel fuel system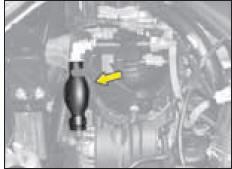 HDi 135 and 140 engines
Detach the protection cover to access the priming pump.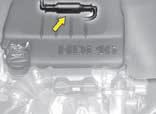 HDi 90 and 110 engines
Detach the protection cover to access the priming pump.
In the event of running out of fuel:
- After filling (5 litres minimum), operate the manual priming pump until some resistance is felt.
- Operate the starter motor while depressing the accelerator pedal slightly until the engine starts.
If the engine fails to start at the first attempt, wait 15 seconds before trying again. If the engine fails to start after several attempts, repeat the procedure from the beginning. When the engine is idling, accelerate slightly to complete the bleeding of the circuit.
HDi engines are of a highly technical nature. All maintenance and repairs require specific qualifications which only your CITROËN Dealer can guarantee.
See also:
Exiting economy mode
These functions are reactivated automatically the next time the vehicle is driven. In order to resume the use of these functions immediately, start the engine and let it run for a few minutes. T ...
Activation
The system is activated as soon as reverse gear is engaged, accompanied by an audible signal. The proximity information is given by: - an audible signal, which becomes more rapid as the vehicle a ...
Switching off
The ambience lighting switches off automatically when the sidelamps are switched off. It can be switched off manually using the instrument panel lighting rheostat button. With the lighting on ...