Priming the diesel fuel system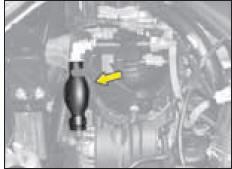 HDi 135 and 140 engines
Detach the protection cover to access the priming pump.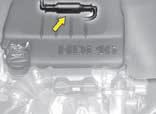 HDi 90 and 110 engines
Detach the protection cover to access the priming pump.
In the event of running out of fuel:
- After filling (5 litres minimum), operate the manual priming pump until some resistance is felt.
- Operate the starter motor while depressing the accelerator pedal slightly until the engine starts.
If the engine fails to start at the first attempt, wait 15 seconds before trying again. If the engine fails to start after several attempts, repeat the procedure from the beginning. When the engine is idling, accelerate slightly to complete the bleeding of the circuit.
HDi engines are of a highly technical nature. All maintenance and repairs require specific qualifications which only your CITROËN Dealer can guarantee.
See also:
Automatic windscreen wiping
The windscreen wipers operate automatically, without any action on the part of the driver, if rain is detected (sensor behind the interior mirror), adapting their speed to the intensity of the rai ...
Interior
Translucent instrument panel This system gives optimum contrast, whatever the external light level. Scented air freshener The air freshener distributes scented air throughout the cabin. It is loc ...
Headlamp adjustment
To avoid causing a nuisance to other road users, the height of the headlamps should be adjusted in relation to the load in the vehicle. 0 . 1 or 2 people in the front seats. -. 3 people. 1. 5 ...