Vehicle identification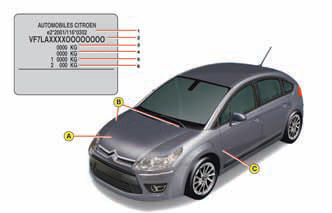 All original CITROËN replacement parts are available from CITROËN. It is in the user's interest, for his safety and for the sake of the warranty, to reject all other parts. Fitting parts or units not supplied by CITROËN may even result in violation of the law, if it involves non- compliance with regulations concerning safety, pollution control, interference suppression and the noise level of the vehicle. Fitting such parts or units could also deprive the user of any recourse against the maker.
A Chassis number label
1: EU type approval number.
2: Vehicle Identification N°. (VIN).
3: Gross vehicle weight.
4: Gross train weight.
5: Maximum weight on front axle.
6: Maximum weight on rear axle.
B Vehicle identification number
On the bodywork and behind the windscreen.
C Colour code.
Tyre reference
Tyre pressures
See also:
Locking the vehicle with exterior protection alarm only
Deactivation of the interior volumetric protection Switch off the ignition. Within ten seconds, press button A until the indicator lamp is lit continuously. Get out of the vehicle. Lock o ...
16/9 Colour screen (with myway)
...
Warning lamps
1. With the ignition on, the orange and red warning lamps come on. 2. With the engine running, these warning lamps should switch off. If a warning lamp remains on, refer to the page concerned. ...