Vehicle identification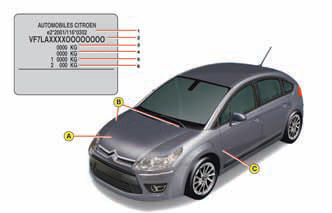 All original CITROËN replacement parts are available from CITROËN. It is in the user's interest, for his safety and for the sake of the warranty, to reject all other parts. Fitting parts or units not supplied by CITROËN may even result in violation of the law, if it involves non- compliance with regulations concerning safety, pollution control, interference suppression and the noise level of the vehicle. Fitting such parts or units could also deprive the user of any recourse against the maker.
A Chassis number label
1: EU type approval number.
2: Vehicle Identification N°. (VIN).
3: Gross vehicle weight.
4: Gross train weight.
5: Maximum weight on front axle.
6: Maximum weight on rear axle.
B Vehicle identification number
On the bodywork and behind the windscreen.
C Colour code.
Tyre reference
Tyre pressures
See also:
Cargo net (Tourer)
the rear seats (row 2) when the luggage-cover blind is not fitted, or behind the front seats (row 1). Note : when using behind the front seats, the backrests and the seat cushions must be folde ...
MP3 CD source
MP3 CDs The MP3 format (MPEG 1,2 & 2,5 Audio Layer 3) is an audio compression standard that permits recording of 10 times as many musical files on one CD. Your radio only plays back files whic ...
Interior mirror
Adjustable mirror providing a central rearward view. Manual model The mirror is fi tted with a night-time anti-dazzle device. Adjustment Adjust the mirror so that the glass is directed correc ...