Dashboard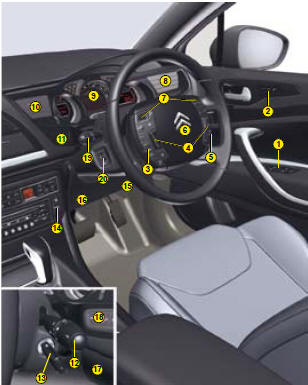 1 Electric windows / rear view mirrors / Child safety controls
2 Memorisation of driver's seat, rear view mirrors and air conditioning settings
3 Controls at the steering wheel:
Speed limiter
Cruise control
4 Horn
5 Audio/telematic controls under steering wheel
6 Driver's airbag
7 Navigation controls
8 Driver's air vent
9 Instrument panel
10 Driver's air vent
11 Lighting control
12 Windscreen wiper / Screen wash controls
13 Ignition switch
14 Controls:
Locking/unlocking of doors and boot
Lane Departure Warning System
15 Steering column adjustment
16 Knees airbag
17 Oddments tray
18 Checks / Anti-intrusion alarm / Parking space sensor controls
19 Lighting / Direction indicators / Foglamp / Voice recognition controls
20 Manual headlamp height adjustment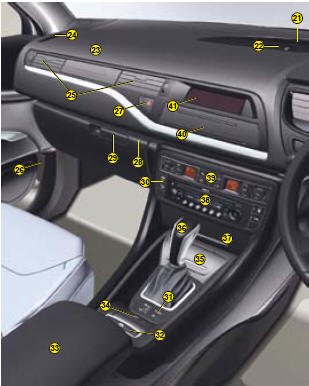 21 Sunlight sensor
22 Soft diffusion air conditioning adjustment knob
23 Passenger's airbag
24 Side window demister
26 Bonnet release
25 Passenger's air vents
27 Hazard lamps button
28 Key switch:
Passenger's airbag activation/deactivation
29 Glovebox:
Vehicle document storage
Audio-video sockets
Fusebox access flap
30 ESP / Parking assistance controls
31 Automatic gearbox SPORT/SNOW mode controls
32 Electric parking brake
33 Armrest with cup-holder
34 Suspension controls:
Ground clearance adjustment
Sport mode
35 Ashtray with lighter
36 Gear lever
37 Storage
38 Radio mono CD or NaviDrive
39 Air conditioning controls
40 Storage
41 Multifunction display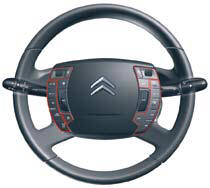 Instrument panel menu
Activation of voice recognition or reminder of navigation guidance
Cruise control and Speed limiter
Telephone
Multifunction display menu
MODE: selection of the type of information displayed on multifunction screen.
Audio
The "SET +, PAUSE, VOL+, MUTE" buttons are located so that you can use them without needing to take your eyes off the road.
See also:
Switch panel
Lighting of the indicator lamp indicates the status of the corresponding function. A. Activation of the electric child lock or Deactivation of the interior volumetric alarm. Deactivation of th ...
Interior lighting
1 - Spotlamps A press on one of the buttons will switch the corresponding spotlamp on or off. They will not come on if the ignition is switched off or the vehicle is in economy mode. 2 - Front ...
Interior features
Scented air freshener The scented air freshener diffuses the selected fragrance throughout the passenger compartment from its location in the ventilation system. Automatic air conditioning Aft ...