Petrol engines 1.8i 16v - 2.0i 16v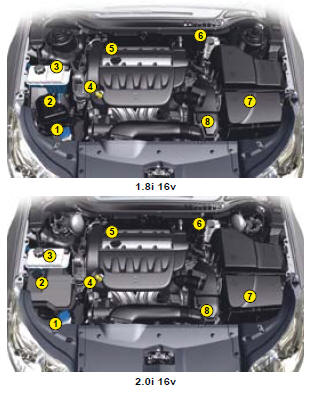 1. Screen wash and headlamp wash reservoir.
2. Power steering fluid or power steering and suspension fluid reservoir.
3. Engine coolant reservoir.
4. Engine oil gauge.
5. Engine oil topping-up.
6. Brake fluid reservoir.
7. Battery.
8. Air filter.
Vehicles with 2.0i 16v engines may be fitted with metallic suspension. In this case, the power steering oil reservoir is different.
See also:
Opening
Fuel tank A. Opening the fuel filler flap. To open the fuel fi ller fl ap, pull at its notched edge. There is a fuel label on the inside of the fl ap. Locking filler cap Turn the key a quarter ...
Wipers
FRONT WIPERS Control positions 2: Rapid wipe. 1: Normal wipe. I: Intermittent wipe. 0: Off. One press downwards: AUTO: Automatic wipe activated. Single wipe. Position I: The speed of the wi ...
Safety advice
Any operation under the bonnet necessitates a number of safety precautions. Be particularly careful both before and during all checks under the bonnet: Allow the engine to cool down. Keep children ...