Safety recommendations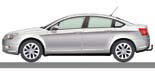 Towbar
We recommend that you use CITROËN towbars and harnesses which have been tested and approved during the design of your vehicle, and that these devices are fitted by a CITROËN dealer.
If a device is fitted outside of the CITROËN network, it must be carried out using the electrical connections fitted at the rear of your vehicle and following the recommendations of the manufacturer.
Towing (Boat, caravan, etc.)
If you are climbing a steep gradient and the engine gets excessively hot, certain functions become unavailable (e.g. sequential control of the automatic gearbox, the air conditioning).
If you are towing with a device not approved by the CITROËN network, you must deactivate parking assistance using the button on the dashboard.
See "Parking assistance".
It is recommended that you remove the towing ball, so that it does not interfere with the functioning of the proximity sensors, when you are not using a trailer.
Roof bars
For your safety and to avoid damage to the roof, you must use roof bars that are tested and approved by AUTOMOBILES CITROËN.
Recommendations:
Spread the load evenly, avoiding overloading on one side.
Position the heaviest weight as low down as possible.
Tie the load down securely and add warning signs if it is protruding.
Drive conservatively, as the vehicle will be more vulnerable to side winds.
The stability of your vehicle may be altered.
Remove the roof rack or roof bars when you are not using them.
It is essential to install a CITROËN approved electronic unit when having a towbar fitted, in order to prevent any risk of malfunction or damage (risk of fire).
If you are towing another vehicle, the latter must be freewheeling (gearbox in neutral).
Do not exceed the maximum permitted load.
For the maximum distributed load on the roof bars: see the chapter "General".
See also:
Fuses on the battery
Fuses on the battery To access the fusebox on the battery, detach and remove the cover. After a repair, take care to reclose the cover. If the cover is not correctly positioned or not properly ...
Handbrake
The parking brake is applied, with the vehicle stationary, by pulling on the lever with a force that is proportionate to the steepness of the slope. To facilitate the action on the lever, you ar ...
Horn
Audible warning to alert other road users to an imminent danger. Press one of the spokes of the steering wheel. Use the horn moderately and only in the following cases: - immediate danger, - ...