Puncture kit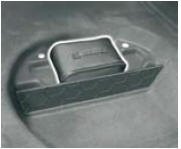 Puncture kit
The puncture repair kit is located in the boot, underneath the tool kit.
The puncture repair kit is a complete system including a compressor and a setting product.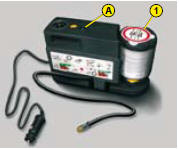 Using the puncture repair kit
1 Remove the sticker found in the kit, then stick it on the steering wheel to remind you that you are driving with a wheel that is only fit for temporary use and that your speed is therefore limited.
2 Connect the flask 1 to the valve of the tyre to be repaired.
3 Connect the electric cable to one of the vehicle's 12V sockets.
4 With the engine running, start the compressor by pressing on button A until the tyre pressure reaches 2,0 bars. If you cannot reach a pressure of 2 bars, the tyre is not repairable.
5 Remove and store the compressor.
6 Drive off immediately, for a few miles at reduced speed, to allow the puncture repair to set.
7 Adjust the tyre pressure using the compressor according to the recommendations for the vehicle, and check that there is no air escaping (no loss of pressure). If you cannot reach a pressure of 2 bars, the tyre is not repairable.
8 Do not exceed 11 0 km/h (68 mph).
The tyre must be examined, then repaired or replaced as soon as possible by a professional.
Warning, the flask of puncture repair gel contains ethylene-glycol, a product that is toxic if ingested and irritating for the eyes.
Keep out of the reach of children.
After use, do not dispose of the flask in the natural environment, but return it to a CITROËN dealer or to a recognised recovery facility.
This repair kit is available from a CITROËN dealer.
See also:
Programming
Turn thumb wheel 1 to the "CRUISE" position: the cruise control mode is selected but is not switched on (PAUSE). Set the programmed speed by accelerating to the required speed, then ...
Dual-zone
The dual-zone system regulates the temperature and air distribution for the drivers's side and the passenger's side independently. The air flow is common to both sides. 1a Driver's side ...
A few definitions…
Range (miles or km) This indicates the distance which can still be travelled with the fuel remaining in the tank in relation to the average consumption over the last few miles (kilometres) tra ...