Towing – Lifting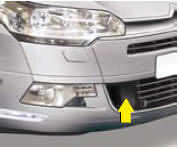 Towing with wheels on the ground
Towing eye fixings are located at the front and at the rear of the vehicle.
Detach the cover:
For the front cover, lever with a screwdriver at the top of the cover.
For the rear cover, press:
On the right hand side (saloon), On the bottom (Tourer).
The ignition key must be in position M to retain steering
Use a bar with attachments to the towing eyes as above.
The towing eye is removable, to be stowed in the jack protection box inside the spare wheel.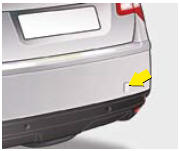 Advice
Towing at low speed over a very short distance is authorised in exceptional cases depending on the regulations in force.
Otherwise, it is necessary to have your vehicle transported on a recovery truck.
It is essential to check that the electric parking brake is released.
Requirement — Towing with automatic gearbox
Place the selector on position N (neutral).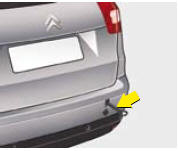 When the engine is not running, the steering and the braking are no longer assisted.
If you are towing another vehicle, the latter must be freewheeling (gearbox in neutral).
Towing with either the front or the rear of the vehicle raised, or in "minimum height" position, is forbidden.
See also:
Fuel consumption
(a) .../1: fi tted with low rolling resistance tyres to reduce consumption and emissions of CO2. The fuel consumption fi gures shown here correspond to the values communicated at the time of prin ...
Adjustment dial
This dial is located on the dashboard. It allows you to adjust the intensity of diffusion of the fragrance. Turn the dial to the right to permit diffusion of the fragrance. Turn the dial to ...
Cruise control
This driving assistance function allows you to drive at the speed of your choice without the need to action the accelerator. It is active over speeds of around 40 km/h (25 mph). Remark: For the ...