Engine oil level indicator
System which informs the driver whether the engine oil level is correct or not.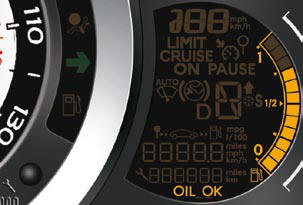 This information is indicated for a few seconds when the ignition is switched on, after the service information.
The level read will only be correct if the vehicle is on level ground and the engine has been off for more than 15 minutes.
Oil level correct

Lack of oil

This is indicated by the fl ashing of "OIL" , linked with the service warning lamp, accompanied by an audible signal and a message on the multifunction screen.
If the lack of oil is confi rmed by a check using the dipstick, it is essential that the level is topped up to prevent damage to the engine.
Oil level indicator fault
This is indicated by the fl ashing of "OIL--" . Consult a CITROËN dealer.
Dipstick
Refer to the "Checks" section to locate the dipstick and the oil fi ller cap on your engine.

There are 2 marks on the dipstick:
- A = max; never exceed this level (risk of damage to the engine),
- B = min; top up the level via the oil fi ller cap, using the grade of oil suited to your engine.
See also:
Operating fault
In the event of a speed limiter malfunction, the speed is cleared resulting in fl ashing of the dashes. Have the system checked by a CITROËN dealer. On a steep descent or in the event of ...
Changing a bulb
Procedure for replacing a faulty bulb with a new bulb . In some climatic conditions (e.g. low temperature or humidity), the presence of misting on the internal surface of the glass of the headla ...
Electric parking brake
The electronic parking brake combines 2 operational modes: AUTOMATIC: Automatic application when the engine is stopped and automatic release on use of the accelerator (automatic operation by def ...