Controls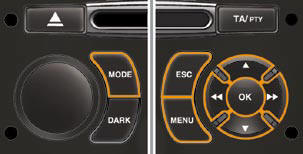 From the control panel of your Audio system, you can:
press the "MENU" button to gain access to the general menu ,
press the "  " or "  " buttons to scroll through the items on the screen,
press the "MODE" button to change the permanent application (date, audio source...),
press the "  " or "  " buttons to change a setting value,
press the "OK" button to confi rm, or
press the "ESC" button to abandon the operation in progress.
See also:
Fuel consumption
These consumption values are established in compliance with European directive 80/1268/CEE. They can vary depending on how the vehicle is driven, on the prevailing traffic conditions, on weather ...
Programmable heating
With the engine off, programmable heating preheats the coolant circuit in order to optimise the engine operating temperature prior to starting. The programmable heating system can be started imme ...
Petrol engines 3.0i V6
1. Screen wash and headlamp wash reservoir. 2. Power steering and suspension fluid reservoir. 3. Engine coolant reservoir. 4. Engine oil gauge. 5. Engine oil topping-up. 6. Brake fluid reservoi ...