Special position of the windscreen wipers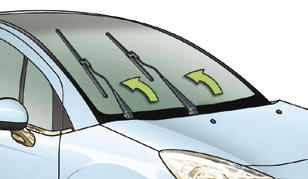 In the minute following switching off of the ignition, any action on the stalk positions the wipers vertically.
This action enables you to position the wiper blades for winter parking, cleaning or replacement without damaging the bonnet.
To park the wipers after this has been done, switch on the ignition and operate the stalk.
For optimum and lasting wiping of the "fl at-blade" wiper blades, it is advisable to:
- handle them with care,
- clean them regularly using soapy water,
- change them approximately every 6 months,
- avoid using them to retain cardboard on the windscreen.
See also:
Speed limiter
This driving assistance device allows you to select a maximum speed that you wish not to exceed. This has to be a speed greater than 30 km/h (approx. 20 mph). The speed limiter controls are loca ...
Indicator and warning lamps
Visual indicators informing the driver that a system is in operation (operation or deactivation indicator lamps) or of the occurrence of a fault (warning lamp). When the ignition is switched on Ce ...
Vehicle parameters
"Vehicle parameters" menu This menu can be accessed from the instrument panel "Main menu". It allows you to set the lighting and comfort settings for your vehicle. "Lighting" menu Once you h ...