Opening
Fuel tank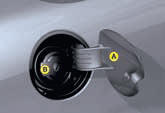 A. Opening the fuel filler flap.
To open the fuel fi ller fl ap, pull at its notched edge. There is a fuel label on the inside of the fl ap.
Locking filler cap
Turn the key a quarter turn to lock and unlock the fi ller cap. When refuelling, place the cap on the carrier on the inside face of the fi ller fl ap.
B. Removing the fi ller cap.
Fuel tank capacity: 60 litres approximately.
Tailgate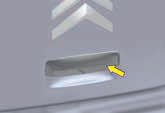 Unlock the vehicle with the remote control or the key.
Press up on the lever and lift the tailgate.
Spare wheel and tools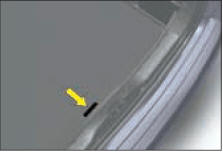 Access to the spare wheel
Lift the carpet, then remove the tool holder to gain access to the wheel.
Access to the tools
The tools are located in a protective holder in the spare wheel.
If your spare wheel is of different dimensions to the wheels on the vehicle, it is essential to use it only on a temporary basis, and to not drive above 0 km/h (50 mph).
See also:
Bonnet
A. Interior control. B. Exterior control. C. Bonnet strut ...
Speed limiter
This driving assistance device allows you to select a maximum speed that you wish not to exceed. This has to be a speed greater than 30 km/h (approx. 20 mph). The speed limiter controls are loca ...
Towbar
We recommend you to have this device fitted by a CITROËN Dealer, who will be acquainted with your vehicle's towing capability and with the procedures necessary for installing a safety item of ...