Dark button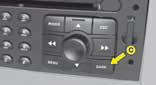 After the first press on control C, only the top part of the display remains illuminated.
A second press on control C triggers black panel mode.
BLACK PANEL
(with headlamps on)


This function switches off certain of the displays, for night driving. It can be activated:
- either by 2 presses on control C
- or by 1 press on control D if this control has been programmed with the black panel function.
The instrument panel continues to show vehicle speed as well as the cruise control and speed limiter functions if these are activated.
If there is an alert or a modification of functions or adjustments, black panel is interrupted.
To programme control D:
- give a long press on control D,
- then select the black panel function on the multifunction screen using the arrowed buttons on your radio/CD or Navidrive system. Validate with a press on "OK".
Note: the dashboard lighting rheostat still operates in black panel mode.
See also:
Fuel consumption
These consumption values are established in compliance with European directive 80/1268/CEE. They can vary depending on how the vehicle is driven, on the prevailing traffic conditions, on weather ...
Charging the battery using a battery charger
Disconnect the battery from the vehicle. Follow the instructions for use provided by the manufacturer of the charger. Reconnect starting with the negative terminal (-). Check that the t ...
Anti-intrusion alarm
Your vehicle may be equipped with an anti-intrusion alarm. This ensures: • Exterior perimeter protection by means of detectors on the access points (doors, tailgate, bonnet) as well as on the el ...