Steering column adjustment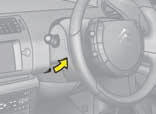 Both the height and reach of the steering wheel can be adjusted.
With the vehicle at rest, first adjust the seat to the most suitable position, then adjust the position of the steering wheel.
Adjustment
Unlock the steering by pulling the control towards you.
Adjust the steering wheel position then lock by pushing the control fully downwards.
If you press firmly downwards on your steering wheel after locking, you may hear a slight click. The steering is then in its definitive position.
As a safety measure, do not adjust your driving position while driving.
See also:
Airbags
Front passenger's airbag deactivation In order to be able to use a rearfacing child seat in the front passenger's seat position, it is imperative to deactivate the passenger's airbag. ...
General
(*) Weight transfer: The braked towing weight can be increased. It is possible, when the towing vehicle is within the gross vehicle weight, to transfer weight allowance from the trailer. In all ...
Brakes
Braking system Your vehicle's most important safety feature, the braking system, is provided by brake discs (or discs and drums) and a dual hydraulic circuit. When the engine is running, power as ...