Towing – Lifting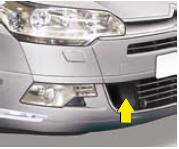 Towing with wheels on the ground
Towing eye fixings are located at the front and at the rear of the vehicle.
Detach the cover:
For the front cover, lever with a screwdriver at the top of the cover.
For the rear cover, press:
On the right hand side (saloon), On the bottom (Tourer).
The ignition key must be in position M to retain steering
Use a bar with attachments to the towing eyes as above.
The towing eye is removable, to be stowed in the jack protection box inside the spare wheel.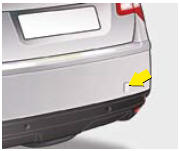 Advice
Towing at low speed over a very short distance is authorised in exceptional cases depending on the regulations in force.
Otherwise, it is necessary to have your vehicle transported on a recovery truck.
It is essential to check that the electric parking brake is released.
Requirement — Towing with automatic gearbox
Place the selector on position N (neutral).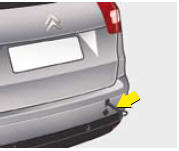 When the engine is not running, the steering and the braking are no longer assisted.
If you are towing another vehicle, the latter must be freewheeling (gearbox in neutral).
Towing with either the front or the rear of the vehicle raised, or in "minimum height" position, is forbidden.
See also:
Operating fault
If this warning lamp comes on on the instrument panel, accompanied by an audible warning and a message on the multifunction screen, contact a CITROËN dealer to have the system checked. The ...
Automatic lighting
The sidelamps and dipped headlamps are switched on automatically, without any action on the part of the driver, when a low level of external light is detected or in certain cases of activation of ...
Changing a fuse
Before changing a fuse, the cause of the failure must be identifi ed and rectifi ed. Identify the faulty fuse by checking the condition of its fi lament. Correct Incorrect Use the special ...