Towing – Lifting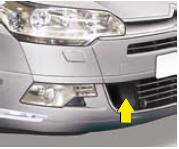 Towing with wheels on the ground
Towing eye fixings are located at the front and at the rear of the vehicle.
Detach the cover:
For the front cover, lever with a screwdriver at the top of the cover.
For the rear cover, press:
On the right hand side (saloon), On the bottom (Tourer).
The ignition key must be in position M to retain steering
Use a bar with attachments to the towing eyes as above.
The towing eye is removable, to be stowed in the jack protection box inside the spare wheel.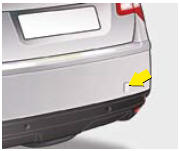 Advice
Towing at low speed over a very short distance is authorised in exceptional cases depending on the regulations in force.
Otherwise, it is necessary to have your vehicle transported on a recovery truck.
It is essential to check that the electric parking brake is released.
Requirement — Towing with automatic gearbox
Place the selector on position N (neutral).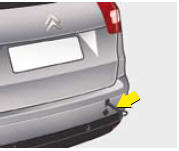 When the engine is not running, the steering and the braking are no longer assisted.
If you are towing another vehicle, the latter must be freewheeling (gearbox in neutral).
Towing with either the front or the rear of the vehicle raised, or in "minimum height" position, is forbidden.
See also:
"Hydractive III+" suspension
"Hydractive III +" suspension automatically adjusts to road surface conditions and driving style. It allows you to alternate between soft and firm suspension settings, maximising comfort at the ...
Front airbags
System which protects the driver and front passenger in the event of a serious front impact in order to limit the risk of injury to the head and chest. The driver's airbag is incorporated in the ...
Door mirrors
Adjustment of rear view mirrors Functions with ignition switched on. From the driver's position, select the rear view mirror via the control 1, then adjust in the four directions by moving the c ...