Keys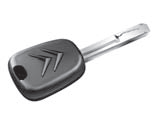 The key operates all the vehicle's locks as well as the ignition.
Note: For safety reasons, a buzzer will sound if you have switched off the ignition and opened the driver's door without previously removing the ignition key.
The key is used to deactivate the passenger's front airbag (see "Safety").

Advice
For any modification concerning the keys it is essential to contact a CITROËN dealer taking all of the keys in your possession with you.
Central locking using the key
A brief action with the key locks the vehicle.
Central deadlocking using the key
A second action straight away with the key deadlocks the vehicle. It is then impossible to open the doors from either inside or outside the vehicle.
A long action with the key closes the windows.
Note: With the vehicle stationary and the engine switched off, locking is signalled by the flashing of the interior locking control warning lamp.
If any of the doors, or the boot, is open or not properly closed, central locking does not operate.
Electronic immobiliser
The key contains a coded electronic chip. When switching on, the code must be recognised to allow the engine to be started.
This electronic immobiliser locks the engine management system a few seconds after switching off the ignition, and prevents unauthorised starting of the engine.
If the key is not recognised, starting is not possible.
If this occurs, leave your vehicle immobilised and contact a CITROËN dealer.
It is dangerous to deadlock the vehicle when someone is inside as unlocking from the interior is impossible (without the remote control).
In the event of loss of the keys go to a CITROËN dealer with proof of ownership of the vehicle.
The CITROËN dealer network will be able to recover the key code and the transponder code to order replacement keys.
See also:
Jack socket
This connection box, consisting of a JACK socket is located on the centre console. It permits the connection of portable equipment, such as a digital audio player of the iPod ® type. It reads ...
The market
The new Citroën C4 is a desirable addition to the compact 5-door hatchback segment - an important class in the UK - which includes competitor models such as the Ford Focus, Vauxhall Astra and ...
Parking space sensor
The "Parking Space Sensor" function assists you in finding a parking space. It measures the size of the space and gives you information on: The possibility of parking in a free space, depending o ...