Doors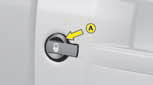 Locking the doors from the inside
With the doors closed, press button B once to operate the electric central locking and unlocking.
The doors can still be opened from inside.
The central locking will not operate if a door is open, or not properly closed.
The lamp on the control B can signal any of 3 statuses:
- It flashes if the doors are open when the vehicle is stationary, engine stopped.
- It lights up if the doors are locked and the ignition is switched on.
- It goes out if the doors are not locked.
Note: Control B is inactive if the vehicle has been locked with the remote control or with the key.
Personal security
When the vehicle is started, the system automatically locks the doors and tailgate as soon as you reach a speed of approx. 10 km/h (6 mph).
Note: If a door is opened, this door will automatically relock as soon as the vehicle reaches approx. 6 mph.
Activation/Deactivation of the function
After switching on the ignition, give a long press on the central unlocking button until a message is displayed.
If you decide to drive with the doors locked, remember that in the event of an accident this renders access more difficult for the emergency services.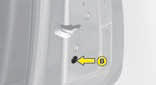 Manual operation (emergency mode)
In the event of an electrical fault, it is possible to lock the vehicle's doors by actioning control C on each door. With the door open, insert the end of a key or similar item into the aperture and turn.
Close the door.
After a repair, normal functioning resumes using either the unlocking control B, the remote control, or the key used in the driver's door.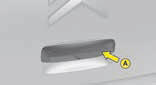 See also:
Total distance recorder
System which measures the total distance travelled by the vehicle during its life. The total and trip distances are displayed for thirty seconds when the ignition is switched off, when the driv ...
Parking assistance
Front Proximity sensors are located in the front and rear bumpers of your vehicle. When manoeuvring whether forwards or in reverse, at a speed below approximately 10 km/h (6 mph), they warn you ...
Radio source
Notes on radio reception Your radio will be subject to certain phenomena that are not encountered by domestic systems. The reception of AM and FM signals may suffer from interference, which is ca ...