Diesel injection equipment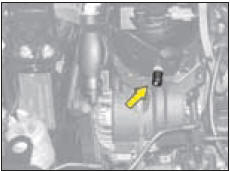 Bleeding of water from the diesel fuel filter
To be bled on a regular basis (at every oil change). To evacuate the water, slacken the bleed screw or the water in diesel fuel sensor, which is located at the base of the filter, until water ceases to flow out. Then retighten the bleed screw or the water in diesel fuel sensor.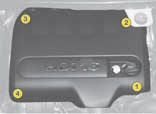 Protection cover
HDi 135 and 140 engines
Remove the protection cover by first unclipping point 1, then 3 and 4. Detach point 2 by pulling towards you, then lift. To reposition the protection cover, attach point 2 first. Lower the cover, keeping it centred. Clip points 1 and 4, pushing vertically and slightly rearwards. Clip point 3 pushing down vertically.
HDi engines are of a highly technical nature. All maintenance and repairs require specific qualifications which only your CITROËN Dealer can guarantee.
See also:
Opening
Fuel tank A. Opening the fuel filler flap. To open the fuel fi ller fl ap, pull at its notched edge. There is a fuel label on the inside of the fl ap. Locking filler cap Turn the key a quarter ...
Steering lock - Ignition - Starter
S: Steering lock To unlock the steering, gently move the steering wheel while turning the key, without exerting undue force. When you remove the key, turn your steering wheel to lock the steerin ...
Energy economy mode
System which manages the period of use of certain functions to conserve a suffi cient level of charge in the battery. After the engine has stopped, you can still use functions such as the audio e ...