Diesel injection equipment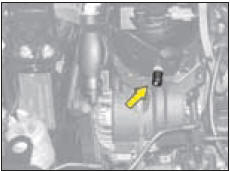 Bleeding of water from the diesel fuel filter
To be bled on a regular basis (at every oil change). To evacuate the water, slacken the bleed screw or the water in diesel fuel sensor, which is located at the base of the filter, until water ceases to flow out. Then retighten the bleed screw or the water in diesel fuel sensor.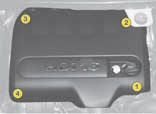 Protection cover
HDi 135 and 140 engines
Remove the protection cover by first unclipping point 1, then 3 and 4. Detach point 2 by pulling towards you, then lift. To reposition the protection cover, attach point 2 first. Lower the cover, keeping it centred. Clip points 1 and 4, pushing vertically and slightly rearwards. Clip point 3 pushing down vertically.
HDi engines are of a highly technical nature. All maintenance and repairs require specific qualifications which only your CITROËN Dealer can guarantee.
See also:
Interior lighting
Interior lamp (1/W5W) Unclip the cover of the interior lamp 1 with a thin screwdriver, close to the button, to access the faulty bulb. Side reading lamps (2/W5W) Unclip the cover of the reading ...
Anti-tamper function
The system detects the putting out of service of its components. The alarm is triggered if anyone tries to put the wires of the siren, the central control or the battery out of service. Do not ma ...
Changing a fuse
Before changing a fuse, the cause of the failure must be identifi ed and rectifi ed. Identify the faulty fuse by checking the condition of its fi lament. Correct Incorrect Use the special ...