Boot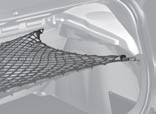 Luggage securing rings
Use the 2 side fi xings at the rear, as well as the 6 anchoring rings on the boot floor and the rear seat backrest, to secure your loads. For safety reasons, in case of hard braking, heavy objects should be placed as far forward as possible.
Protective net
This helps to secure objects stowed in the boot.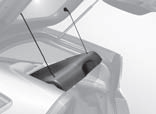 Removing the rear shelf (3- door model)
- Detach the cords.
- Carefully lift then pull, tilting it slightly on one side.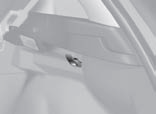 Boot hook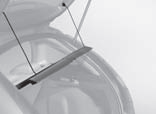 Removing the rear shelf (5- door model)
- Detach the cords.
- Carefully lift then pull.
Avoid using the rear shelf for heavy or hard items. These could be dangerous if thrown around during harsh braking or, if they touch the rear screen, could damage the heating elements.
See also:
Manual gearbox
5 speed gearbox Reverse gear Do not select reverse gear until the vehicle is completely stationary. Depress the clutch pedal and wait a few moments before gently engaging reverse gear. 6 spee ...
Brakes
Braking system Your vehicle's most important safety feature, the braking system, is provided by brake discs (or discs and drums) and a dual hydraulic circuit. When the engine is running, power as ...
Locating your vehicle
Press the closed padlock to locate your locked vehicle in a car park. This is indicated by lighting of the courtesy lamps and fl ashing of the direction indicators for a few seconds. ...