Keys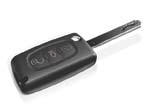 Electronic immobiliser key
The key operates all the vehicle's locks as well as the ignition.
The key can be used to deactivate the front passenger's airbag. See "Airbags".
Central locking using the key
Briefly turn the key in the door lock.
The vehicle is locked.
Deadlocking: Central locking using the key
A second immediate action with the key deadlocks the vehicle. It is then impossible to open the doors from the interior or exterior.
Note:
With the vehicle stationary and the engine switched off, locking is signalled by the flashing of the interior locking control warning lamp.
If any of the doors, or the boot, is open or not properly closed, the central locking does not operate.
Electronic immobiliser
The ELECTRONIC IMMOBILISER DEVICE locks the engine supply system.
The system activates automatically as the key is removed from the ignition.
All the vehicle's keys contain an electronic immobiliser device.
After you switch on the ignition, a dialogue starts between the key and the electronic immobiliser device.
If the key is not recognised, you cannot start the vehicle
If this occurs, leave your vehicle immobilised and contact a CITROËN dealer.
Never attempt to modify the electronic immobiliser's electrical circuit, as this could render your vehicle undriveable.
It is dangerous to operate the deadlocking when a person is inside the vehicle as unlocking is impossible from the inside without the remote control.
The key number is on the label attached to the key.
Should the key be lost or modified (addition, cancellation or replacement), you must contact a CITROËN dealer, with all of the vehicle keys in your possession as well as your proof of identity.
See also:
Getting started
Front seats Manual adjustments A. Adjustment of the backrest angle. B. Adjustment of the seat height and angle. C. Heated seat control. D. Longitudinal adjustment of seat. E. Adjustment of the ...
Vehicle identification
All original CITROËN replacement parts are available from CITROËN. It is in the user's interest, for his safety and for the sake of the warranty, to reject all other parts. Fitting par ...
Engaging reverse gear
Raise the ring under the knob and push the gear lever to the left then forwards. Only engage reverse gear when the vehicle is stationary with the engine at idle. As a safety precaution and to ...